'Love is Blind' Stacy Snyder And 'MAFS' Ryan Ignasiak An Item?
With the release of Love Is Blind Season 5 reunion, Stacy Snyder revealed she is dating someone. During the reunion, Stacy and Izzy Zapata make it clear they are not together now. But, who is the mystery person Stacy discusses but doesn't give details on during the interview?
Love Is Blind Relationship Status Update
Although Stacy Snyder and Izzy Zapata didn't get married on Love Is Blind Season 5, their alter kiss and reassuring comments made it seem they might have a shot later. But after filming ended the reunion unveiled they only made it about a week. Giving each other about a week apart, they met up for a first date together after the alter. However, Stacy didn't want to go forward with their engagement without taking a step back. Unfortunately, Izzy has no desire to move backward. As a result, they broke things off and didn't see each other until about a year later.
Love Is Blind Meets Married At First Sight
Perhaps when Love Is Blind meets Married At First Sight, seeing is believing? Some very convincing clues have come forward that point toward a relationship between Stacy Snyder and a Married At First Sight star. Even though there isn't confirmation yet, many astute fans are putting the pieces together that Stacy is in an under-the-radar relationship with Ryan Ignasiak. Notably, they both have experience filming reality TV, so at a minimum, there is something to build on. Fans are seeing some crossover between the two reality stars' lives.
View this post on Instagram
Fans Are Piecing Information Together
One fan made a collage titled: "Rumor has it: Stacey from LIB & Ryan are dating." Another sleuth said on social media, "Yup I figured that out a couple of months ago based on Instagram flirty comments and story mentions." Jokingly, another person connected, "LMAOOOO the crossover I didn't expect but makes so much sense!"
Money Talks For Stacy Snyder
Sadly, a big setback for Stacy Snyder and Izzy Zappata was his credit score and income. Making a valid argument a commenter said, "Ryan has always had a hefty salary. His credit score is likely great. I wouldn't date him though. It would be emotionally unfulfilling. He'll probably not marry or stay in a serious relationship until he's 50 or so."
In a Reddit thread, titled "Some relationship tea on Stacy" someone propelled the notion. They said, "(It's not confirmed but it's also not harmful, so hopefully ok): Some Houston "insiders" claimed on Instagram that she is in a relationship with Ryan Ignasiak from the MAFS Houston season (Ryan was married to a girl named Brett at that season)."
Furthermore, a person promoted the idea, "He's a manager in the oil industry and probably meets Stacy's standards better than MLM Izzy. Ryans IG: https://www.instagram.com/ryanignacho/."
Do you think that LIB Stacy Snyder and MAFS Ryan Ignasiak are dating? Why do you think Stacy Snyder was reserving comments about the relationship on the Love Is Blind Season 5 Reunion? Would they make a good couple? Drop your thoughts in the comments below.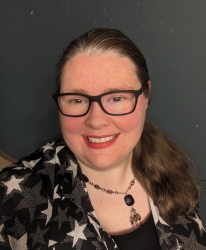 Latest posts by Bonnie Kaiser-Gambill
(see all)