Milton Johnson's Take On Lydia Joining 'LIB' To Rekindle With Uche
If you are watching Love Is Blind Season 5, you know there have been sparks with Milton Johnson and Lydia Velez Gonzalez. Unfortunately, there's also history with Lydia and another contestant, Uche Okoroha.
Catching Feelings
Viewers saw that Milton Johnson had an instant pod connection with Lydia during the experiment. Unfortunately, news broke that Lydia and Uche had a connection months prior to Love Is Blind which made things tricky. While it was ultimately too dramatic for Uche's love interest, Aaliyah Cosby, Milton weathered the storm. Sadly, Aaliyah made an early exit from the show. However, Milton accepted the information and embraced Lydia even with the past brought to light. Things moved forward and Lydia and Milton entered into an engagement "sight unseen." But, during the latest episodes of Love Is Blind Season 5, Uche confronts his ex-girlfriend Lydia. He wants answers about the possibility she went on the show intentionally to rekindle their past love.
Milton is 6'7"?!!! Well played Kinetic/Netflix, this season is full of surprises! #LoveIsBlindS5, #loveisblind #Netflix pic.twitter.com/NG1VjnxQ6Y

— Miguel C (@MaC2LA) September 29, 2023
Milton Johnson and Lydia Gonzalez Moving Forward
Although Milton Johnson and Lydia have a nearly 7-year age gap they took their relationship to the next level in the new episodes. After they finally met in person, they were ready to move on to a more physical relationship as they started their getaway in Mexico. When they met each other's families and friends, their relationship deepened. But, it got out of control when Uche and Lydia reunited at the pod reunion party. Uche challenged Lydia wanting to know her true intentions coming on Love Is Blind. Even though Uche had his suspicions, in some ways, the idea was initially introduced in a conversation with Aaliyah. But Lydia denied the thought that she joined the show for Uche.
Milton Johnson Has Opinions On Lydia's Past
While Milton Johnson says he has his opinions on the matter, he diverted the question saying, "I feel like that's such a nuanced thing."  According to Us Weekly, Milton said, "Truthfully, I have my opinions, but I feel really if you want to know that answer, that would probably be a better answer for Netflix." Milton elaborated on their relationship, "I think [what] it really just comes down to is our values were the same." Continuing, he said, "We had the same morals, we wanted the same things out of life. From day one, it just kind of felt like a hit, just felt like a match. So, we just wanted to really pursue that and see where it could take us."
Milton admitted he witnessed the fight but wasn't involved, "I really didn't have the conversation with them." Refocusing, he said, "But I went on the show for one reason: to potentially find my future wife. So that's my first objective." Milton Johnson also said, "Lydia had all the traits that I would prefer my wife to have, so I pursued her. It's just an additional benefit that I got to eat great food and made a great group of friends like Chris [Fox] and the rest of the cast members. But, at the end of the day, [finding love was] the primary objective I came for and I wanted to execute on that. So that takes priority over everything else."
What do you think about Milton Johnson's answer about Lydia and Uche's past? Did you watch the newest episodes of Love Is Blind? How do you think Season 5 is going? Drop some comments below.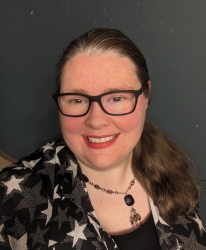 Latest posts by Bonnie Kaiser-Gambill
(see all)