'Gold Rush' Star Parker Schnabel Shares Devastating News
This year, Gold Rush fans have seen a lot of struggles mining gold. But now, Parker Schnabel shared some news that will make a lot of fans sad. The Discovery star just revealed he lost a beloved member of his team.
Parker Schnabel Shares Devastating News On Social Media
Gold Rush fans will be sad to learn about Parker Schnabel's devastating news. The savvy gold miner shared his loss on social media.
On Thursday, Parker Schnabel posted on his Instagram page, "Well….Dozer passed away. He must've had a heart attack or aneurysm- so it was peaceful anyways. He always had a toy and a wagging tail and was always there when someone needed cheering up (normally me). "Not easy, he's been my #1 companion for 9 years and we've been through a lot together."
Along with his post, Parker shared a cornucopia of photos and videos of his beloved pup.
What We Know About Dozer
Gold Rush fans have been following Dozer on the hit Discovery show for nearly a decade. But what more do we know about him? Thanks to a previous Instagram post, Dozer's birthday was on March 27. So that means he died right around his ninth birthday.
According to the official Discovery Gold Rush page, Dozer was a Labrador-German Shepherd mix. A friend from Parker's hometown of Haines, Alaska gave him this sweet dog as a gift.
Anyone who watched the series saw him run around, chase sticks, and check out the gold weigh-ins. He reportedly also chased a bear away from the campsite. So, he was certainly more than just a Team Schnabel mascot.
In addition, we know approximately when Parker got Dozer. On June 11, 2014, he shared a photo with a young Dozer introducing him as "Our newest addition to the crew, Dozer. #Ateam."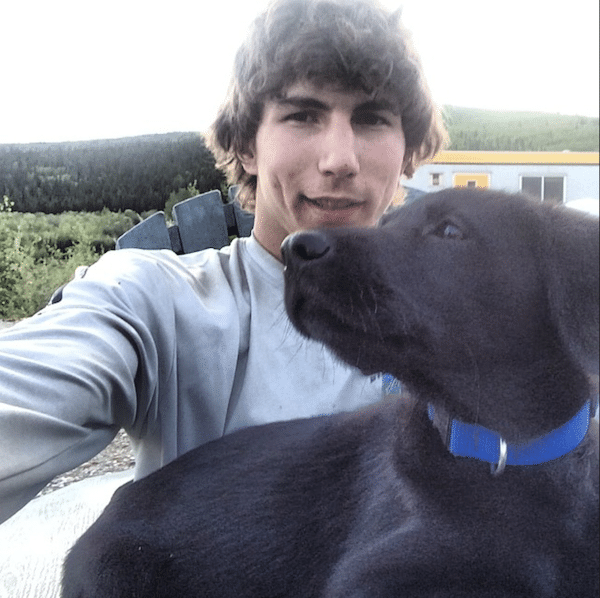 Dozer Was With Parker Through Gold Rush Good And Bad Times
Many Gold Rush fans love Parker's coming-of-age story. Through good and bad times, Dozer was there for Parker.
He was around when Parker's beloved grandfather, John Schnabel was alive, and coaching his grandson.
He was there when Parker had a girlfriend. Several photos of Dozer were taken by Parker's former girlfriend Ashley Youle.
Fans And Cast Mourn The Death Of Dozer
Parker's news came with a flood of condolences. So many Gold Rush fans, cast members, and others related to Schnabel's show sent their remembrances of Dozer. He was a sweet dog that every one loved.
Christo Doyle said it best in his own Instagram post, "RIP Dozer. So sorry for your loss, Parker. You gave him the best life a dog could ever have."
Be sure to catch the premiere of the new season of Gold Rush: Parker's Trail Season 6 on Friday, April 7, at 9 p.m., Eastern, on Discovery.
Latest posts by Georgia Makitalo
(see all)