Kourtney Kardashian Brought To Tears Amid Difficult Pregnancy
The Kardashians star Kourtney Kardashian shared a moment that brought her to tears. She has lived through a complicated pregnancy for the past few months. But she and Travis Barker are facing the needs of this pregnancy head-on.
Stresses Of Pregnancy For Kourtney Kardashian
With any pregnancy, emotions can run haywire. Moreover, Kourtney Kardashian has been facing extra stress throughout this pregnancy. Notably, Travis Barker tours around for a living with Blink-182. That alone can make things more difficult. Then, Kourtney and the baby went through emergency fetal surgery in the past few months. Reportedly, both parents faced health issues earlier this month as well. And, Travis and Kourtney have been under the microscope during the pregnancy as a celebrity couple. Now, it seems Kourtney may be on bed rest as well.
Night Out On The Town
Currently, Kourtney Kardashian is pregnant with her fourth child. However, this is the first baby with her husband, Travis Barker. Undoubtedly, it won't be long until the little one arrives. She is expected to give birth this fall. Kourtney and Travis had a date night at their local Crossroads restaurant in Calabasas, California on October 17. She showed her baby bump in a long-sleeved skintight white maxi dress. Showcasing that the baby is getting very close. Alternately, Travis sported a casual look with a T-shirt that said "F**K OFF," a long-sleeved shirt underneath, black jeans, and a beanie.
View this post on Instagram
Fans Are Talking About Kourtney Kardashian and Travis Barker's Appearances
Unsurprisingly, fans had many things to say about Travis Barker's clothing choices. One person posts pictures and comments, "Stay classy Calabasas." Another says, "She looks great to me because she looks normal," about Kourtney Kardashian. But then the commenter says, "Maybe Barker has that shirt on so paps can truly f**k off." Additionally, someone says, "He looks embarrassing." Then a commenter asks, "What else would you expect from an actual rockstar??"
On the other hand, other fans' comments pour over the beauty of Kourtney Kardashian and her dress. Adoringly, one fan compliments Kourtney's clothing, "I love seeing her like this vs the pouty sexy pregnancy shoots." Another commenter says, "I think she looks good for being extremely pregnant."
View this post on Instagram
Emotions Run High
While her emotions were running high from the pregnancy, Kourtney Kardashian shared a moment that brought her to tears after receiving a tender gift. The Kardashians' star highlights a present on her recent Instagram Stories on Sunday afternoon. She uploaded a picture of a bouquet. It is a beautiful bundle of what appears to be fresh lavender and lilac flowers. Within the caption, it says, "Flowers from my daughter." Unquestionably, it is even more lovely, because it is from Kourtney's daughter Penelope Disick. Generously, Penelope showered her mom with kindness during a hard time. The crying emoji included shows how strongly Kourtney felt about the delicate gesture.
Do you think it is sweet what Penelope Disick did for her mom? When do you think Kourtney Kardashian and Travis Barker's baby will arrive? Are you tuning in for this season of The Kardashians? Drop your comments below.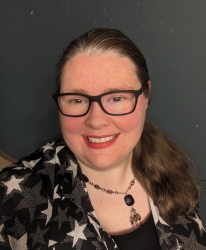 Latest posts by Bonnie Kaiser-Gambill
(see all)