'The Voice' Katie Wheatley Proud To Be First Pregnant Contestant
During the October 16 episode, The Voice coaches Niall Horan, John Legend, Reba McEntire, and Gwen Stefani all listened intently to the final night of Blind Auditions. Markedly, this was part seven of the Blind Auditions for this season. With this being the final night, it was a very tough competition. Although not everyone could be selected, an Oklahoma girl made an impression even though she didn't turn the coaches' chairs.
One Unique Contestant
Among the lineup was Katie Wheatly from Owasso, Oklahoma. She said, "It was a massive honor and a huge blessing," when talking about her experience in the Tulsa World. Continuing, "I'm just honored that they chose me to go out there and be a part of such a cool TV show and such a cool opportunity." An exciting factor, Katie says in her audition video, "I don't think anyone has auditioned pregnant, which is crazy. I can't believe I get to be the first person to get to do this on The Voice. Can we consider myself a duo?" She jokingly said she was kidding about the duo.
Kudos For Katie Wheatley From Gwen
Wheatley sang an acoustic version of Jimmy Eat World's "The Middle" in hopes of grabbing one of the final team slots. While her cover didn't capture the judges' limited team openings at this stage, Gwen Stefani still offered praise for her vocals. Gwen pointed out, "I really love how you go in and out of your chest voice." Also showcasing, "You have that little bit of a scratchy yodel, and all those nuances are really special. Thank you for coming and singing for us."
Katie Wheatley Auditions With Baby On Board
While Katie Wheatley auditioned for The Voice in July, she was four months pregnant. Having the opportunity to share, she used her platform to talk about overcoming obstacles. During her audition video, she discusses a topic near and dear to her. "We journeyed through a battle with infertility," Wheatley said. "Every month when I'd get a negative test, it was just a constant reminder this isn't happening yet." Discouraged, she said, "I would sit at the piano … and I'd write this lyric, 'The valley is not my home.' This obstacle in my life, I'm passing through; one day this will be over. Eighteen months later, I'm pregnant."
Katie Wheatley (@ktwheatley_) has a beautiful voice and lots of talent! Come back to #TheVoice!

— Ryan Bartholomee (@RyanBartholomee) October 17, 2023
Encouragingly, before she left coach Niall Horan wished her well, "Good luck with the baby, and thanks for coming to see us. Maybe we'll see you down the line and you can walk (your) baby out here."
What did you think about last night on The Voice? Did you like Katie Wheatley's performance? Are you planning to tune in for the rest of the season? Drop us your thoughts in the comments.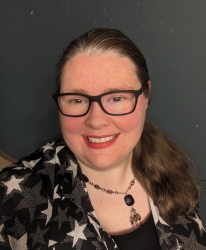 Latest posts by Bonnie Kaiser-Gambill
(see all)