Logan Brown's wife, Michelle Petty, made a pretty bold and shocking move on Instagram today. Eagle-eyed Sister Wives fans were pretty quick to take notice of it. What exactly did she do? And, why did it come as a surprise to fans?
Logan Brown gets married to Michelle Petty
As TvShowsAce previously reported, Logan Brown and Michelle Petty got married after five years of being engaged. Unlike many of Kody's adult children, Logan and Michelle didn't want TLC anywhere near their wedding. Thanks to photos on social media, fans were able to piece together the fact that Kody, Meri, Robyn, Christine, and Janelle all attended the wedding. It was also revealed that Kody sat in the back with Robyn which is something that didn't sit well with fans. At the time, most fans agreed it was very telling of the fact that Kody was no longer with Janelle.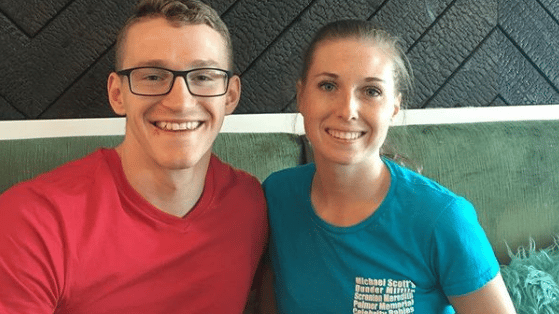 For the most part, Logan and his wife Michelle don't have much to do with the show. Other than the official life updates on social media, they live a pretty private life away from the spotlight. Growing up in a reality TV family, fans can't really blame the adult children for wanting some privacy.
So, some fans were a bit surprised to see Michelle Petty's shocking move on Instagram.
His wife made a pretty shocking move on Instagram
On Reddit, one eagle-eyed Sister Wives fan reports seeing Michelle Petty liked Meri Brown's statement confirming the end of her relationship with Kody. While this might be nothing more than Michelle reacting to the post, fans took it to mean so much more.
For starters, none of the Brown family with public accounts have reacted to or commented on Meri's statement. So, fans thought it was a bit surprising to see Logan Brown's wife Michelle, who had a private Instagram account, come out to show Meri support.
Many fans assume many of Kody Brown's adult children can't stand their father. So, their spouses (like Michelle) supporting Meri's breakup didn't come as a shock to everyone. Interestingly enough, because Logan and his wife live a more private life away from the spotlight, there were also several fans who had no idea who she was. Some fans openly admitted in the comments they didn't know who Michelle was.
"Look who liked Meri's post," the OP said with a big eye emoji as they took a screenshot of Michelle interacting with the post.
What do you think about Michelle Petty interacting with Meri's statement confirming the end of her relationship with Kody? Let us know in the comments down below. And, keep coming back for more Sister Wives news.
Latest posts by Trisha Faulkner
(see all)