Latest posts by Nikole Behrens
(see all)
1000-Lb Sisters fans can hardly believe that Glenn Halterman will turn one this summer. For the first half of 2022, fans followed Amy Halterman online and eagerly waited for pregnancy news and updates. This year, fans are enjoying seeing the little family spend time together and enjoy major holidays.
This Valentine's Day is the first one the family of four will share together. And Amy couldn't let the occasion pass by without doing something absolutely adorable for her boys.
Gage & Glenn Halterman celebrate Valentine's Day with matching outfits
Amy Halterman gave birth to her second son Glenn last summer. Right now, the family is having a lot of fun celebrating all of his "firsts." And this just happens to be his first Valentine's Day.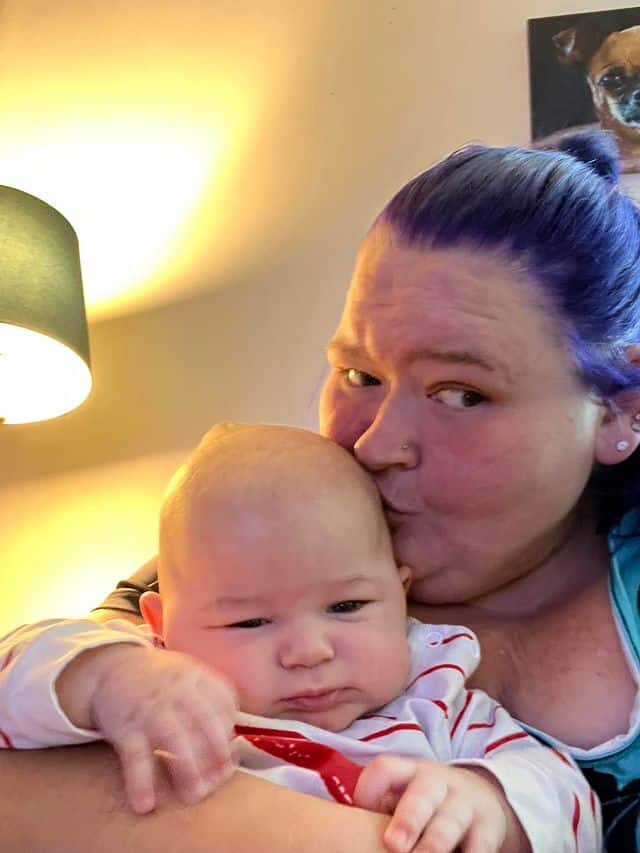 Amy seized the opportunity to dress her sons in matching outfits and share the cuteness with fans. The boys probably won't appreciate the matching outfits when they get older, so their mother is definitely soaking up the opportunity to do it now.
"Happy brother 1st Valentine's Day!!!" the mother of two shared with fans on Instagram. In the photos, Glenn and Gage are wearing cute black shirts that say, "Mr. Steal Your Heart."
Fans went wild over the sweet photos. Amy's followers always love seeing new photos of Gage and Glenn, but the Valentine's Day photos really seemed to take the cake.
"So cute! Not easy taking care of 2 little ones, you are doing an amazing job Amy!❤️👏👏" one fan wrote. 
"You have the cutest babies!!😍❤️🥰" another added. Other followers pointed out that Glenn continues to look more like Amy day by day.
What do you think about Gage and Glenn Halterman's Valentine's Day outfits? Don't forget to share what you think in the comments.
Amy Halterman reveals how she chose her second son's name
1000-Lb Sisters Season 4 is well underway. Onscreen, Amy is preparing to deliver her baby boy. This season, she also revealed where she took the name "Glenn" from. It's no secret that the TLC star loves horror movies and wanted to continue the trend of naming her kids after scary shows. But where exactly did she take Glenn from?
On the show, Amy admitted that she chose the name The Walking Dead. However, there are also characters with that name in Nightmare on Elm Street and Chucky. "Glenn Halterman" just seemed like the right choice for the new baby. Fans can't wait to see more of Gage and Glenn onscreen this season. The boys bring a lot of cuteness and innocence to the show.
New episodes of 1000-Lb Sisters air on TLC every Tuesday night. Don't forget to catch the latest episode and see what the family is up to next.