Latest posts by Nikole Behrens
(see all)
Britt Stewart made Dancing With The Stars history when she became the first Black female pro dancer in Season 29. Since then, the 33-year-old has gone above and beyond to prove that she belongs as a pro dancer.
Each year, Britt comes up with spectacular choreography and wins even more fans. And now, it seems like Britt has finally found someone to share her life with.
This Valentine's Day, the professional dancer confirmed that someone has captured her heart — and it's a former DWTS contestant. Keep reading to see who!
Britt Stewart is dating one fan-favorite DWTS contestant
Even though Britt Stewart has only been a pro dancer on DWTS for three seasons, she's already wildly popular with fans. In Season 31, she tackled a brand new adventure — teaching a deaf person to dance.
During DWTS Season 31, Britt teamed up with CODA star Daniel Durant. The 33-year-old actor is not the first deaf contestant on Dancing With The Stars. However, fans always enjoy seeing positive representation on the show.
Britt and Daniel finished in 5th place out of 16 couples and were a fan-favorite during their run. And now, the pair have some exciting news to share — they're dating.
"My Valentine. ♥️ Happy Valentine's Day!" Daniel uploaded an Instagram photo of himself and Britt looking quite comfortable with one another.
"I knew it!!!!! ❤️❤️❤️❤️Congrats!" fellow Season 31 contestant Wayne Brady commented on the post.
"Oooooooo 🙂 ❤️" pro dancer Alan Bersten added. Many other members of the DWTS cast chimed in and wished the couple well. And it really seems like many cast members saw this new romance coming from a mile away.
Are you shocked to hear that Britt Stewart and Daniel Durant are officially dating? Don't forget to share your thoughts and opinions in the comments.
Fans can see the couple perform on stage together at select shows
Right now, Britt Stewart is on tour with many other members of the DWTS pros. Daniel Durant is also appearing at select performances. Before they revealed their romance, many DWTS fans were delighted to see the pair reunite.
The pair shared fun photos from behind the scenes at the tour. And of course, Daniel's interpreter Gabe came along for the ride too. Gabe managed to win his own group of fans after performing on stage with Britt and Daniel during one number in Season 31.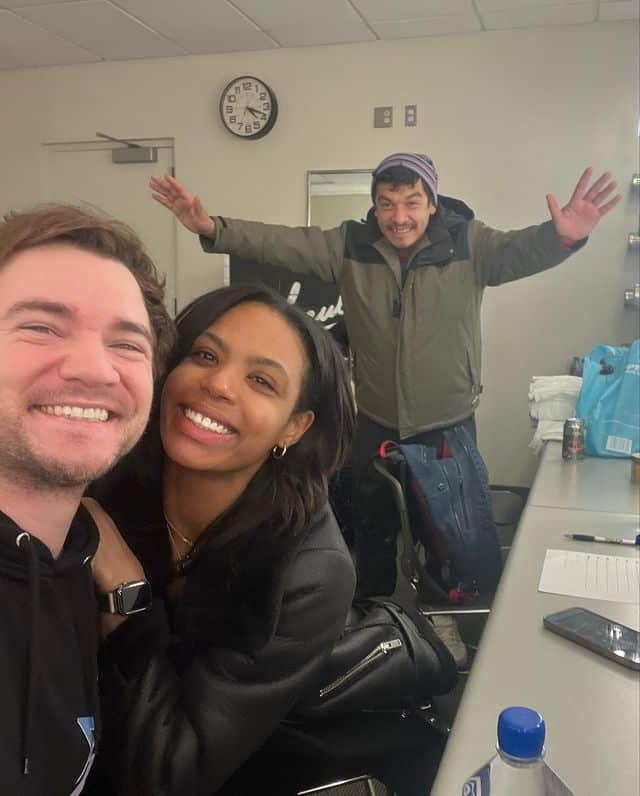 Fans who have a chance to see Daniel Durant and Britt Stewart perform on stage together are in for a real treat. Plenty of other fans are excited to watch this new romance blossom and grow.
Stick around for more news and updates about the Dancing With The Stars cast. You really won't want to miss out!