Logan Brown is the oldest of the Brown family's children. He hasn't had much to do with Sister Wives in several years, but fans often wonder what he's up to in his adult life.
There's some really happy news to share — Logan just married his long-time girlfriend Michelle Petty. The pair have been seen on Sister Wives on occasion, but not in quite a long time. Logan's mother Janelle talks about them on her social media pages from time to time, confirming the couple was still going strong.
But who exactly is Michelle Petty? Keep reading to get the inside scoop on the newest Brown family in-law.
Logan Brown's new wife seems to be a kind, generous person
Both Logan Brown and his new bride Michelle Petty are relatively private people. They do have Instagram accounts, but the profiles are private. Many other members of the family are more public and sometimes Logan and Michelle can be seen in photos. They may want privacy from the public eye, but they appear to have positive relationships with many members of the Brown family.
Due to their low-profiles, the public doesn't have a lot of information on Michelle Petty. However, it does seem like she has a very generous heart. Before setting her Twitter account to private, Michelle announced that she would donate one of her kidneys to a complete stranger who really needed it. She documented the journey on Twitter and revealed that the full recovery process actually took several months of her life. There are few people who are willing to give so much to someone they don't even know.
The pair seemed to live together before saying "I do"
Sister Wives fans all know that patriarch Kody Brown is very against unmarried people living together. It's not totally known if Logan and Michelle opted to live together before their wedding, but it appears to be the case. Over the summer, Janelle Brown announced that the couple finally finished building their new home.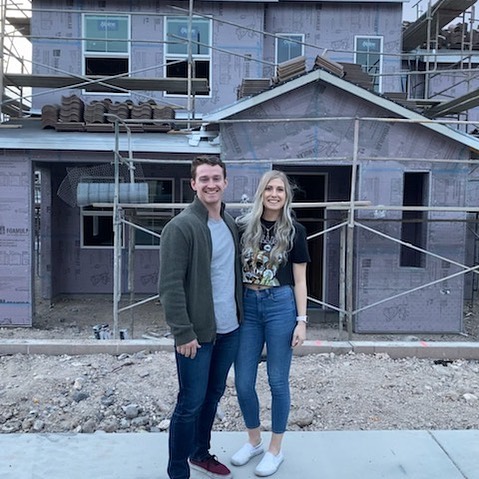 By modern standards, it's not at all unusual for a couple to live together before marrying. But without a doubt, Kody Brown probably didn't look favorably on this move.
Michelle also seems to get along very well with Logan's sisters. She was seen partying in Las Vegas for her big bachelorette party alongside Mykelti Padron and Aspyn Thompson, Logan's younger sisters. The women uploaded exciting photos of the event and it looked like everyone had a great time.
Fans would love to see the newlyweds on new seasons of Sister Wives, but that's incredibly unlikely to happen. Logan said in previous interviews that his wedding would not be televised, unlike his sisters' weddings. Fans will just have to wait until family members upload more photos of the special day.
Sister Wives puts out new episodes every Sunday night at 10 PM eastern time. Don't forget to tune into TLC this Sunday and see what happens on the show next.
Latest posts by Nikole Behrens
(see all)