It's been a while since Pauline Potter first appeared on My 600-Lb. Life back in Season 3. So what is the former TLC personality up to these days? Fans are curious to hear from her.
According to the 2011 Guinness Book of World Records, Pauline was once the Heaviest Woman Alive. But since then, she's worked really hard to lose weight and get on the path to a healthier lifestyle. Has Pauline managed to stay the course since her time on the show?
Pauline Potter made significant progress during her time on TLC
When fans first met Pauline Potter in Season 3, she knew she needed help. However, adjusting to Dr. Now's rigorous diet plan was challenging for her. Over time, she did manage to make progress and lose the weight she needed to save her life.
During an episode of Where Are They Now, Pauline even qualified for skin removal surgery. It's estimated she's dropped at least 500 lbs. during her weight loss journey.
Today, Pauline maintains a pretty active social media presence and uploads recent photos on her Facebook page. Without a doubt, she is no longer anywhere near reclaiming the title of Heaviest Woman Alive.
But sadly, it seems as if Pauline is having some health issues. She shared an update online that has many followers concerned for her well-being.
"Please send me some prayers and good vibes…" the TLC personality shared on Facebook. "I am having my 1st total knee replacement at 730am. Pretty nervous but I am hoping for a fresh start with working knees! Thanks friends."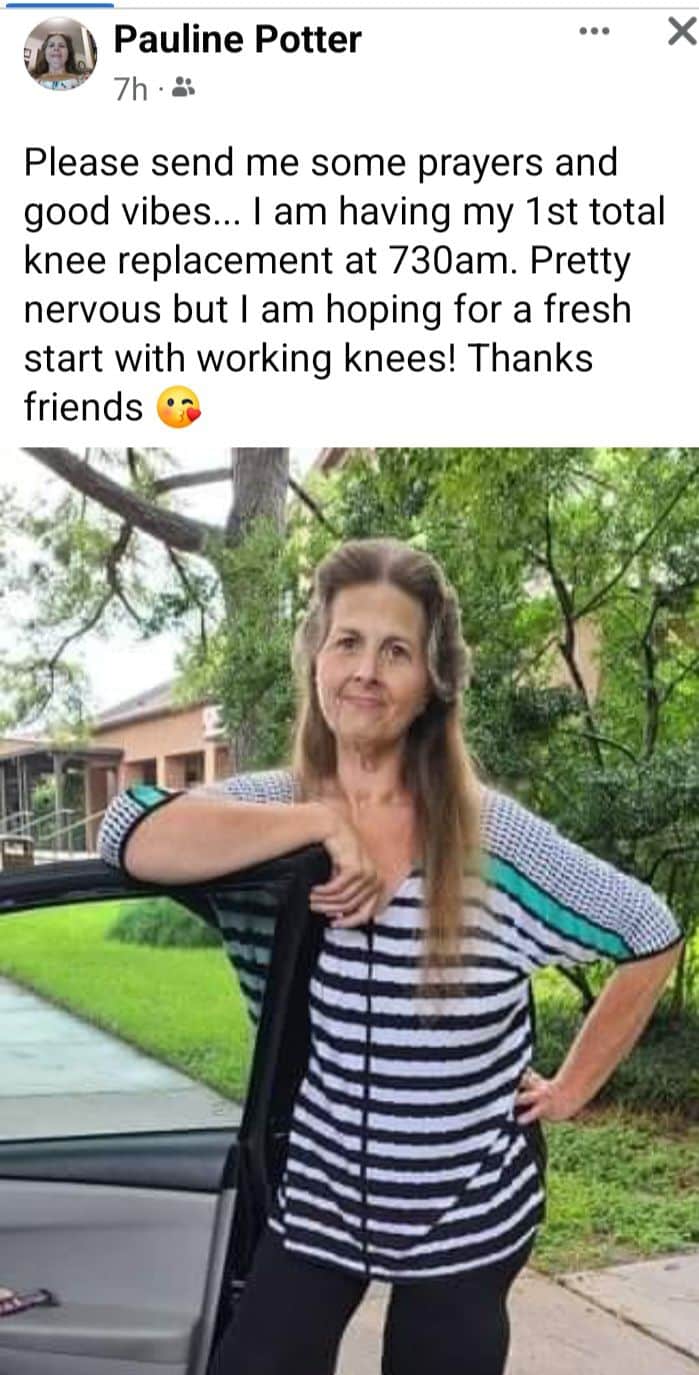 Hopefully everything goes well and Pauline's surgery is successful. For now, fans can only wait for more updates from the My 600-Lb. Life star.
Is everything okay with Dr. Now?
Pauline Potter might be doing all right these days, but can the same be said for Dr. Now? Some My 600-Lb. Life fans think it's possible the bariatric surgeon may be hurting for money right now. Dr. Now has a book coming out, is active on Cameo, and has been advertising bizarre merchandise on his Instagram page. He makes money from the television show, but many fans can't help but wonder if the ongoing lawsuits from former patients are threatening to bankrupt him.
No matter what's ultimately going on, there will be new episodes of My 600-Lb. Life coming to TLC at some point in the near future. Dr. Now confirmed the news himself. More than likely, TLC will have an official update about Season 11 before the year is over. But in the meantime, My 600-Lb. Life fans can monitor the situation and check back for updates.
Stay tuned for more news on your favorite reality TV shows on TLC. TV Shows Ace is the best place to get the latest information and updates.
Latest posts by Nikole Behrens
(see all)