According to The Bold and the Beautiful spoilers just out, Donna Logan's (Jennifer Gareis) dream is about to come true. She still carries a torch for Eric Forrester (John McCook). The pair are in the midst of a passionate affair, which Quinn (Rena Sofer) is about to uncover. Her suspicions regarding her husband's rapid heart rate are driving her mad. The jewelry designer wants to know what's causing Eric's inexplicable heart rate. Surely pickleball isn't requiring that much exercise.
'The Bold and the Beautiful' spoilers: Eric heeds Hope's advice
At the end of this week, Eric will heed Hope's (Annika Noelle) advice by making a choice. Will it be Quinn or Donna he decides to move on with? Obviously, he's not sexually compatible with Quinn anymore and their marriage has changed since Quinn's affair with Carter (Lawrence Saint-Victor). Nothing has been the same between them.
Quinn has enlisted the help of Bridget (Ashley Jones) to find out what's behind Eric's change in heart rate. When they go to the health club, they'll be shocked to learn he's been active with his ex-wife, Donna. However, just before they barge through Eric's door, he'll have made up his mind.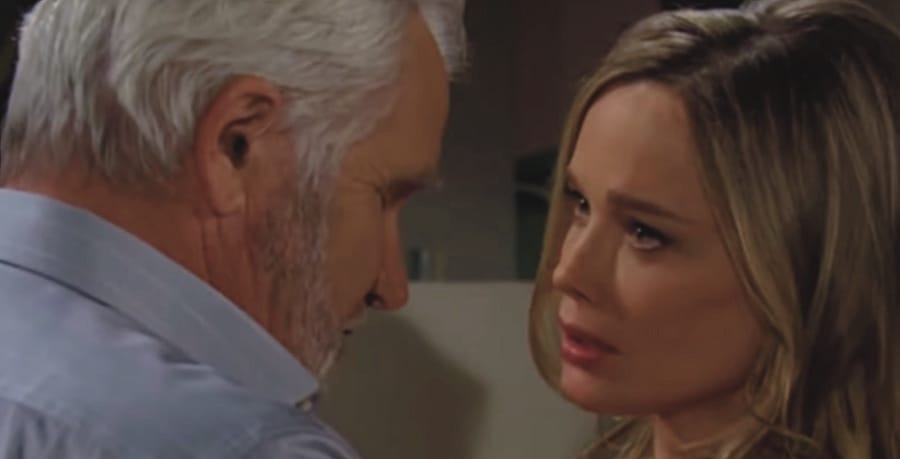 Donna's dream finally comes true
The Bold and the Beautiful spoilers reveal that Donna's dream finally comes true. Her "honey bear" will decide to leave Quinn to be with her. Donna will be "overjoyed" when Eric promises her a wonderful future. While the lovebirds celebrate their rekindled romance, Quinn and Bridget will make a shocking discovery. Eric wants to tell Quinn in his own way that he wants to be with Donna.
He'll be more convinced it's the right move when he learns that his wife wasn't forthcoming about the ring she got him. As viewers have known watching The Bold and the Beautiful the last few weeks, Eric is unaware his fitness ring is a way for Quinn to keep tabs on him. While her intentions have been good, she wasn't upfront with him about monitoring his heart rate while spending time at the health club.
Quinn finds herself alone
Quinn will find herself alone by the end of the week on The Bold and the Beautiful. Carter decides to marry his second choice, Paris (Diamond White) and Eric is moving on with Donna.
After Quinn processes the end of her and Eric, will Donna be in danger? Quinn holds a grudge and she's cold-hearted when it comes to anyone betraying her. Quinn warned Donna to keep her distance from Eric — even having her fired over the fact she flirted with Eric.
There's no telling what's coming up on The Bold and the Beautiful when Donna thinks everything will be just fine. Something tells us Quinn isn't going to accept Eric leaving her for Donna.
Latest posts by Heather Tooley
(see all)