Heidi Klum Pursues New Career Options
During this season of America's Got Talent, there have been great performances and some not-so-wonderful ones. Furthermore, there's been a few controversies just this week. One of which directly involved Heidi Klum and her style of judging. Unfortunately, there were also many fans unhappy about the way the Instant Save vote was handled. Additionally, fans have been talking about Heidi Klum's presence on the panel being a bit stale. In the middle of all these happenings, Heidi has come forward to announce some of the new career options she is pursuing.
Panel Protest
Presently, Heidi Klum's judging skills have critics talking. Currently, the AGT panel is composed of Heidi, 50, Howie Mandel, 67, Sofia Vergara, 51, and Simon Cowell, 63. On Reddit, a person stated their blunt opinion of the judges. Subsequently, many others agreed with the sentiment. The Reddit opinion was, "Anyone think the Howie-Heidi-Sofia-Simon panel is getting kinda stale?… the panel for a variety of reasons is getting boring and somewhat stale (having to adapt to a s**t new format for a start). Time for a shake-up?"
We r live !!! R u watching? 😘 #agt pic.twitter.com/8W6UjJnB4o

— Sofia Vergara (@SofiaVergara) September 21, 2023
Sadly, many of the social media users point to Heidi as one judge they wouldn't miss on the show. Another was more broad, "I hate all the judges, Howie is the least worst. I especially hate Heidi and Sofia. None of them know talent though, we need actual artists and choreographers." Spewing more distaste another said, "Heidi is terrible. Her comments often consist of her telling the contestants what they just did."
Heidi Klum's Career Moves
While Heidi Klum has been getting some flack about her style of judging on AGT, she hasn't let it get her down. Reportedly, she is currently pursuing two new career options. During an Instagram Q&A, she discussed a few questions before Wednesday's Live America's Got Talent appearance. According to her responses, she has projects away from America's Got Talent in the works. The first is a new song release. When another social media follower asked about Milan Fashion Week, Heidi gave a tidbit teasing her second venture away from AGT. Giving a mysterious answer, "I would love to go to Milan Fashion Week but I am actually starting a new TV show tomorrow."
Music To Fans Ears?
A fan asked Heidi, "Are you going to record a song?" Excitedly she confirmed, "Oh my God yes, I did! I recorded a song, and it's coming out soon!" As you may know, this is not her first release. Undeniably, she had dreamed of recording with Snoop Dogg. That dream was realized and the song Chai Tea With Heidi was released in 2022. So now fans can expect a new song very soon.
And while not many details are available, fans know she will be on a new TV show. However, what show or when it is airing is under wraps for now. Fans are looking forward to more information once she comes forward with it.
What do you think about Heidi Klum's new projects? Do you think AGT needs to "shake things up?" Are you ready for Heidi's new release? Tell us what you think below.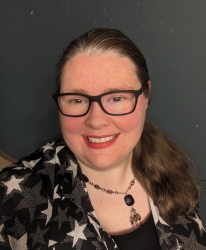 Latest posts by Bonnie Kaiser-Gambill
(see all)