Simon Cowell Criticizes Producers And Howie Mandel's Actions
During the September 19th America's Got Talent show, an event occurred that made Simon Cowell speak out. While the group Trailer Flowers was performing, a controversial action happened. They are one of the eleven semifinalists competing for America's approval to advance to the finals.
What Happened That Made Simon Cowell Upset?
During the vocal performance of "Who You Are" by the Nashville singing duo Trailer Flowers, something debatable occurred. While performing, Heidi Klum's buzzer went off and the red X appeared. Surprisingly, cameras show Heidi Klum pointing at Howie Mandel. As the video pans across you can see behind the judges the crowd is aware and shocked at the situation. Simon Cowell has his hand over his mouth in disbelief.
Terry Crews Calls Out Howie Mandel
Since it is a live show, the actual button push wasn't shown on the video during the performance. However, once the performance ended, the host Terry Crews came out to clarify what happened. Explaining he says, "Heidi, there was a bit of a controversy here." Pointing at Howie, he says, "Howie, did you push her buzzer?" Adding, "We got a playback, we got proof." Terry then says, "Run the tape." Referencing the producers' playback clip which was played of Howie sneakily pressing Heidi's red buzzer. Heidi says, "It was not me girls." At this point, Simon Cowell and Sofia Vergara stay out of it. However, Simon is becoming increasingly impatient while it plays out.
The rest of the judges and I sat down to learn some things about each other! Some of them might surprise you! @heidiklum @terrycrews @howiemandel #agtallstars pic.twitter.com/A9aKgsEP2H

— Simon Cowell (@SimonCowell) February 28, 2023
Howie Mandel's Rebuttle
Despite on-camera proof being displayed, Howie says, "I would not press my buzzer in the semi-finals." Disingenuously, of course, because previously Howie has X'ed acts. Previously, Phil Wright & Parent Jam, Sharpe Family Singers, and Ray Wold & Mom during live shows got his X of disapproval. More so, he was given pushback online for those choices.
From there, bickering between judges escalated. Heidi asked, "What is going on with you, Howie? There is an invisible line right here [between us]. This is your side, this is my side." Responding, Howie says he just knew what Heidi was thinking based on her facial expressions. Heidi then confessed that parts of Trailer Flowers' performance sound screechy at times. However, defending her hesitation to buzz in, she said she wasn't sure how it sounded "at home."
Then Sofia Vergara joined in, "I think you guys sound very nice but … I kept waiting for Simon to ask for another song. There was something happening with this song that it didn't resonate to me. Like, I didn't know what was happening — the outfits, the song. It wasn't my thing, and I love country music, by the way."
Simon Cowell Speaks Out
Finally, Simon Cowell spoke up. Once he did, there was no holding back. Expressedly he said, "First of all, I don't think the producers should have done what they just did, because we don't have a lot of time to talk and actually give you something constructive." Continuing, to Trailer Flowers, "So I apologize." However, he was constructive. Simon told Trailer Flowers that he wasn't a big fan of their song, but likes them. Agreeing with Sofia, he relayed, that if it was during the audition phase he would have asked for a "better song."
What do you think about what Howie Mandel did? Should've the producers done something different like Simon Cowell suggested? Will Trailer Flowers get your vote for the finals? Drop some comments below to let us know.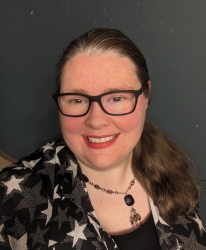 Latest posts by Bonnie Kaiser-Gambill
(see all)