How Kim Kardashian Protects Kids From Kanye West Drama
It is no secret that Kim Kardashian and Kanye West had an infamous Instagram feud in 2022. Surprisingly, Kim says she diligently kept it out of the kids' view. Kim Kardashian says she wants her kids to be happy and healthy and maintain a good relationship with their dad. In an attempt to facilitate that notion, she would only allow her kids to watch Apple TV to avoid seeing headlines about them fighting at that time.
Kim Kardashian – Kanye West Family Feud
Of course, keeping things quiet is one of the things that Kim Kardashian seems to excel at doing. With this intention, she made Andy Cohen bury a family secret during the Keeping Up With The Kardashian Reunion. Likewise, Kim Kardashian didn't want to involve her kids in the media's view of Kanye West. The feud started with Kim's ex-husband, Ye, pelting her with a series of Instagram posts. Unsurprisingly, many of those texts are now deleted. Among the infamous posts was one that Ye said he wanted to take over their four kids: North, Saint, Chicago, and Psalm. Additionally, Ye accused Kim's mom, Kris Jenner, of pushing his daughters to appear in "Playboy and sex tapes."
Referencing Kim's sex tape with Ray J, Ye West commented that Kris Jenner was the driving force behind Kim Kardashian being involved. Continuing, Ye also said that Kris Jenner wanted her to pose nude for Playboy during that same year. Also, Kris Jenner asked Ye to leave her name out of their bickering because of the stress it caused. Aside from those examples, Ye was known to post private texts from Kim Kardashian as well.  Previously, Ye West had been extremely critical of the dating relationship between Kim Kardashian and Pete Davidson. The Instagram posts eventually led to Ye being suspended.
Keeping The Kids Out Of It
To keep the kids in an environment that doesn't focus on Kim Kardashian and Kanye West fighting, Kim restricted the kids' tv use to Apple TV. BuzzFeed quoted Kim Kardashian saying, "I can't risk an Access Hollywood 'coming up next' or anything on the news coming up with their dad mentioned and they wanna watch."
Kim Kardashian wants to be open and honest with her older children. Admittedly, she believes the older two know what has been going on. Understandably, she conversely believes the younger two don't quite catch it all yet. Kim Kardashian said, "You have to just be there for them. No matter what, even in this crazy life that we live, you just have to have a really open dialogue with your children." However, in Hulu's The Kardashians latest season, she admitted she hasn't been as open about the social media posts. She wants her kids to think the world of their dad and so she has kept them in the dark on this subject.
View this post on Instagram
Ye West Disapproval Of Pete Davidson
Ye West lives with bipolar disorder. According to BuzzFeedNews in 2020, Kim Kardashian spoke up about his mental health. Kim Kardashian said, "As many of you know, Kanye has bi-polar disorder," she began. "Anyone who has this, or has a loved one in their life who does, knows how incredibly complicated and painful it is to understand. I've never spoken publicly about how this has affected us at home because I am very protective of our children and Kanye's right to privacy when it comes to his health," she added. "But today, I feel like I should comment on it because of the stigma and misconceptions around mental health." She advocated for him even though living with this disorder can be very difficult for the individual and those around them.
During one of his assumed bipolar expressions, he turned his attention to Pete Davidson. Basically, he made it very clear he was not a fan of Kim Kardashian and Pete Davidson being together. Consequently, it wasn't long before he released a disturbing music video that depicted a cartoonlike version of himself kidnapping, decapitating, and burying a figure resembling the Saturday Night Live comic. Similarly, he released a song that featured the lyrics: "God saved me from that crash / Just so I can beat Pete Davidson's ass."
View this post on Instagram
Does Kim Kardashian Have New Love On The Horizon?
Ultimately, many of these pressures from Ye may have led to the split between Kim Kardashian and Pete Davidson. Unmistakably, one of the main things Kim Kardashian liked about Pete Davidson was that she could be herself around him. Kim Kardashian seems to be interested in a new guy. According to US Weekly, "Kim isn't officially dating anybody, but there is somebody who she's interested in. So far, there have only been subtle flirtations between them, but they haven't gone out yet."
What are your thoughts on Kim's efforts to keep social media posts from her kids that Kanye posted? Any ideas about who the new love interest might be? Leave us some comments on what you think about The Kardashians.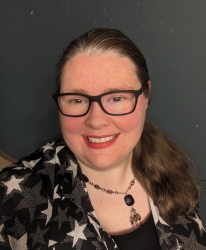 Latest posts by Bonnie Kaiser-Gambill
(see all)