Is The Bold and the Beautiful set to overhaul story lines? If you read comments on articles and social media posts, fans are fed up. They want fresh scripts to watch. After all, enough is being recycled on the CBS soap. The most tiresome is the Ridge (Thorsten Kaye), Brooke (Katherine Kelly-Lang), and Taylor (Krista Allen) love triangle. Next up is Steffy (Jaqueline MacInnes Wood) and Thomas (Matthew Atkinson) acting like 5-year-olds getting their parents back together. Returning to the story line of Hope (Anika Noelle) having blind faith in Thomas again is something no one wants to see again.
The list is long on the amount of old stories that The Bold and the Beautiful writers keep revisiting.
'The Bold and the Beautiful' using old stories as a vehicle to new ones?
One seemingly ridiculous example of this is the scene where Thomas is talking to himself about the CPS call. As noted in one article, his whereabouts in the Forrester mansion is a high-traffic area. It's no secret to The Bold and the Beautiful fans that there's a lot of eavesdroppers near open doors or on staircases. One example would be when Thomas admits out loud that he called CPS and not Brooke.
It's a matter of time before Thomas is busted for his calculated moves. Between his truth being exposed and Quinn (Rena Sofer) leaving the canvas, old story lines morph into new plots. Viewers have expressed exhaustion with the writers of the soap. Surely the show's producer, Bradley Bell, pays attention to what fans are saying. Maybe enough boredom with The Bold and The Beautiful scripts will cause something to change.
Now that Katie (Heather Tom) has turned down Bill (Don Daimont) to reunite, it opens the door for a new love interest for her. Quinn leaving will most likely bring Carter (Lawrence Saint-Vincent) and Katie together. Their romance would be a new one on The Bold and the Beautiful that viewers would appreciate.
Brooke and Bill won't be such a new story line on The Bold and the Beautiful, but Deacon (Sean Kanan) being in the mix as a love interest in Brooke will set the bar a bit higher for a plot.
What will happen when Hope discovers the truth about Thomas? Custody issues may arise at a serious level when the time comes. While a custody plot isn't exactly new, it no doubt will have more depth to it the second time around.
Chaos will unleash in one story
One story will prompt chaos to unleash. The Ridge/Brooke/Taylor story line will certainly be spinning out of control when Ridge learns the truth. Although he'll be groveling for Brooke to forgive him after learning she didn't make the call to CPS, other factors will embellish the love triangle. Moreover, a major betrayal of trust within a specific individual- as in one Thomas Forrester. Ridge and Taylor want to believe that their son has changed for the better, but he had an unfortunate setback that will destroy a lot of people. Ridge will be furious with his son and Taylor will slowly begin losing Ridge again over their son's actions. With such a mix of dynamics under attack, new story lines for the show are bound to arise.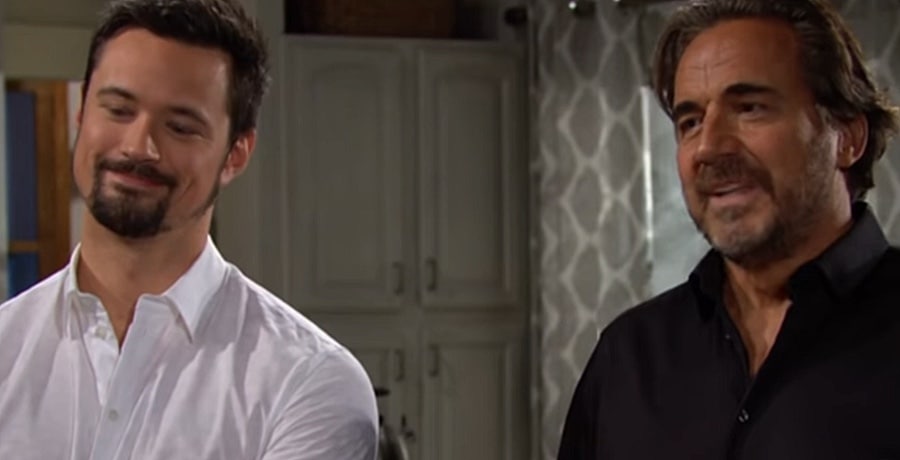 What do you hope to see on The Bold and the Beautiful after Thomas is exposed? Do you believe new plots are in the works as old ones currently play out?
Latest posts by Heather Tooley
(see all)