Movie star Anna Kendrick is having the time of her life on a European vacation at the moment. And in true Anna Kendrick fashion, she's here to share photos of her trip while cracking jokes with fans. The Pitch Perfect actress joked that she's actually just in Europe to lean on rails and take photos of herself doing it. Fans loved the gag.
Although the photos were fun, fans couldn't help but notice how adorable the 37-year-old looked while doing it. Keep reading to take a look at some of the outfits she brought on the trip.
Anna Kendrick is just here to see sights and lean on rails
Even major movie stars need a break from the hustle and bustle now and then. Anna Kendrick is generally pretty quiet on Instagram these days, but she was more than happy to share a few vacation photos with fans. She definitely made her European adventure look like a total blast.
"Europe. Where I lean on railings," the Twilight actress shared in the first set of pictures. In each photo, she's posing up against a railing with the European landscape behind her. The photo series may be a joke, but the background does actually look beautiful.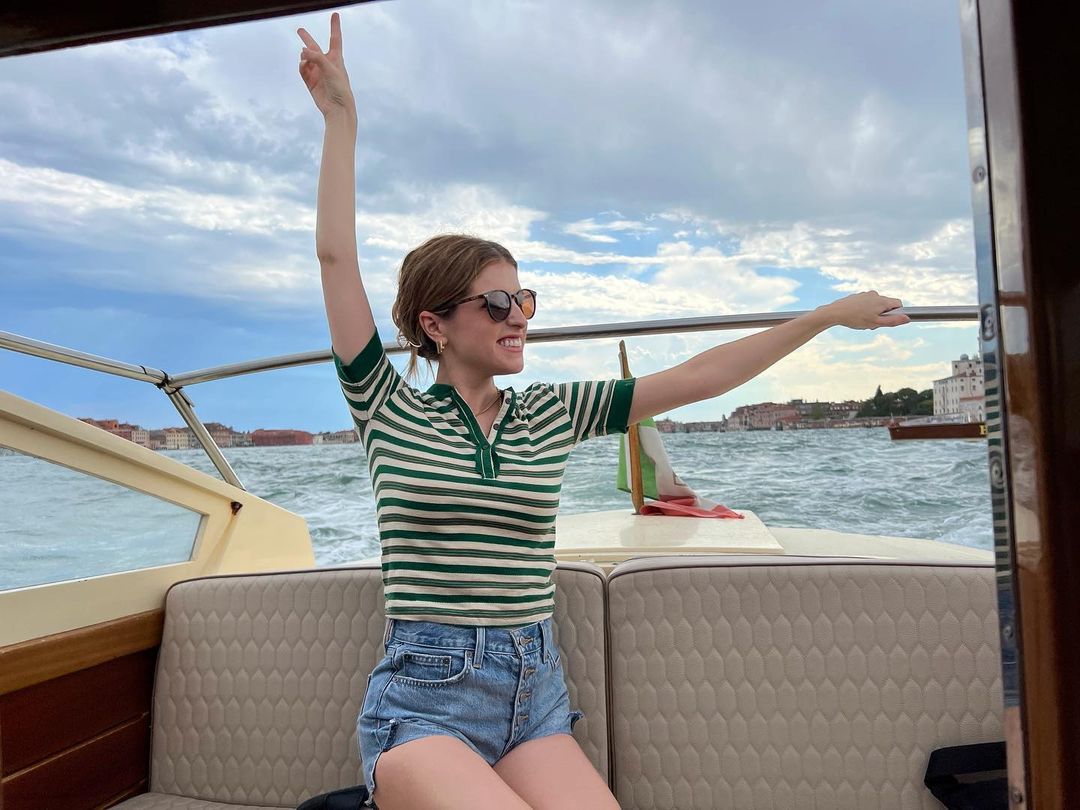 Fans were surprised to see that the actress uploaded more photos shortly after. She generally goes long periods of time between Instagram posts, so this was quite a treat.
"Railings, baby! RAILINGS!!" Anna captioned the second set. This is where fans noticed how truly breathtaking the entire trip must have been. In the first photo, fans can see Anna leaning on a rail with a drink in her hand. She's wearing a small, white top with a patterned skirt. The river and historic-looking architecture lay behind her. It really almost looks like a painting.
"Queen of railings has arrived 😍" one of her followers wrote on the photo. 
"The long skirts are everything," another added.
Can you believe how stunning Anna Kendrick's photos are? What do you think of her ongoing "rail" joke with her online followers? Don't forget to add your thoughts in the comments section below.
The actress found herself in a sticky situation recently
Fans love Anna Kendrick for a wide variety of reasons and her sense of humor is definitely one of them. She always seems to know how to laugh at an awkward or uncomfortable situation. Even if she gets stuck in an elevator at the Toronto International Film Festival.
"I got in the wrong elevator at the wrong time," the 37-year-old confessed to PEOPLE. "I got out. Some lovely Canadian firefighters had me crawl out the top of the hatch. But, yeah, it was, like, seven of us in an elevator just waiting to be rescued by firefighters. It was so absurd that it would happen on a film press tour that it just seemed so immediately comical."
Thankfully, no one was hurt. But Anna worries she might have scared people off with her jokes.
"I couldn't stop cracking jokes," the actress admitted. "Although, maybe that's a defense mechanism. Come on, Anna. Do you know anything about yourself? I think that was probably a defense mechanism. Oh no, I'm not healthy!"
Stay tuned for more information on your favorite movies, TV shows, and actors. There is always something new to share.
Latest posts by Nikole Behrens
(see all)