Khloe Kardashian Acknowledges Tristan's Other Son Publicly
While it has been a bit of a wild ride, Khloe Kardashian finally acknowledged Tristan Thompson's son, Theo Thompson, publicly. During the most recent episode of The Kardashians, Khloe mentions Tristan's other son he has with Maralee Nichols. While everything isn't "water under the bridge" for each person involved, this is a major step.
Khloe Kardashian And Tristan Thompson Talk Straight
In Thursday's episode of The Kardashians, Khloe Kardashian and Tristan Thompson have a heart-to-heart conversation about his past cheating. Notably, Tristan has a history of betraying Khloe. Likewise, to make matters more complicated, at the same time that Tristan and Maralee Nichols hooked up, another baby was also on the way. Particularly, Khloe and Tristan's surrogate became pregnant with their son Tatum at the same time.
Regardless, The Kardashians stars, Khloe Kardashian and Tristan Thompson have continued forward. Although it has been a difficult divide in their relationship, they still co-parent together and show support for one another. During the discussion on the episode, Tristan gets raw about his mistakes. While Khloe allows him to speak, she also is forward about the incident not being "some small thing." Given that, he admits he didn't realize how much he put her family through with his actions.
Accepting Accountability
At that time, Tristan Thompson confesses that he is going to therapy. Additionally, he claims he is doing the work to "prove that he's a different person." Surprisingly, he is ready to face each family member individually to show he is taking accountability for his choices. Saying, "I'm in a place now where I can actually really see and own up to the mistakes I made." Even so, Khloe Kardashian didn't want to be involved with that part. Genuinely, Khloe wanted him to understand, "In this family, if you do something to one of us it affects all of us."
Khloe Kardashian Acknowledges Theo And Maralee Nichols
Also, within the discussion, Khloe Kardashian publicly acknowledges Tristan's son Theo and Maralee Nichols. Easing in she says, "Time has gone by. It's done. My son is here." Significantly, she says, "Your…" but pauses to find the words, then continues, "other son is here." Pushing through difficult emotions, she says, "And some of their emotions have settled down, not forgotten, not forgiven, not any of that, but just settled down."
Tristan Thompson Is Facing His Demons
But Tristan sidesteps her comments about Theo and returns to his previous focus, "I have a lot of respect for your whole family." Reiterating, "So I feel like it's important for me to, you know, go down the line and speak to everyone, and whether they want to hear it or not, I would feel better expressing my truth to them." Then Khloe says, "Most people want to like, run and hide from these situations." Notably, Khloe Kardashian recognizes strengths in Tristan saying, "And Tristan wants to walk right into the storm and face it head-on, and I commend him for that."
What did you think about the interaction between Khloe Kardashian and Tristan Thompson? Do you think The Kardashians stars will be able to forgive Tristan for his cheating? What do you think will happen with Khloe and Tristan moving forward? Give us your thoughts in the comments below.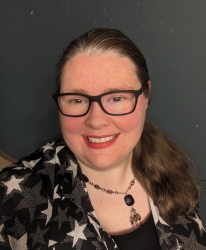 Latest posts by Bonnie Kaiser-Gambill
(see all)