'My 600-lb Life': S6 Janine Mueller's SHOCKING Update, Pics
My 600-lb Life alum Janine Mueller appeared in Season 6 at 678 pounds. Her weight created many problems including her inability to move around. However, the Washington native didn't let her condition discourage her from getting back in shape. She sought Dr. Now's help and followed his orders. Since then, she has turned her life around and is now thriving behind cameras. Keep reading to see what she's up to today.
My 600-lb Life: Janine Mueller's Weight Loss
Janine struggled early in her weight loss journey. She didn't qualify for bariatric surgery. But she continued living a healthy life and eventually dropped 112 pounds. She ended her episode at 566 lbs. The former My 600-lb Life star has also kept in touch with the fans on social media. Many of her photos show that she's been doing much better with her weight loss. In January 2020, Dr. Now's patient uploaded a stunning photo of herself showing the lesser swelling in her legs. She also revealed in 2019 that she dropped to 300 pounds and is looking forward to reaching 250 lbs.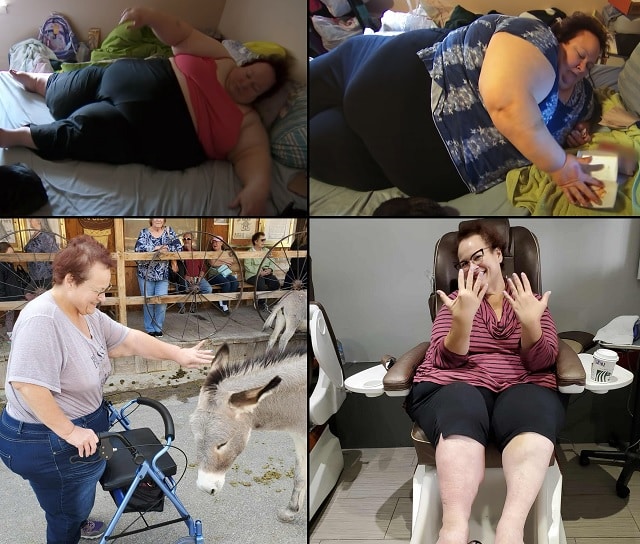 Janine Is Thriving In Life
Janine didn't waste any time to change her life shortly after losing enough weight. She's currently selling accessories from a mini-stall. The My 600-lb Life alum also runs her own shop in an online fashion store.
Aside from business, Janine Mueller has been embracing weight loss by traveling with her family. Many are glad that she's now able to go anywhere without suffering from her weight. The former reality TV personality is also looking forward to having some of her remaining procedures done. One of them is getting a knee replacement.
My 600-lb Life: Janine Mueller's Relationship Status
Janine introduced her boyfriend, Doug, to Dr. Now. He was supportive of her weight loss journey. However, the two broke up after the episode. The My 600-lb Life didn't share further details regarding their split. But she revealed that they were already no longer a couple when they were still filming. At this point, some of her FB photos show that she's been living happily with a cat named Prince.
Janine Mueller's story inspired many. She has yet to make a return episode. But in October 2019, she announced removing everything related to the reality show from all of her social media pages. The former TLC star's decision also comes after her claims that the film crew cut out an interview scene, in which she said that God was the biggest reason for her successful weight loss.
Latest posts by Michael Malley
(see all)