Kourtney Kardashian Hints Of Pregnancy With Travis Barker
Kourtney Kardashian and Travis Barker recently told fans they intended to stop IVF treatments. They have been trying to conceive for a very long time. While this was a difficult decision, the couple believed it was time to stop the IVF option for the time being. This being said, they still indicated they weren't against continuing to try for a baby naturally. And while they believed this was the right decision, it left The Kardashians heavy-hearted. Presently, Kourtney Kardashian seems to be hinting at much brighter news. In her recent Instagram post, Kourtney Kardashian gave clues to being pregnant.
Are Congratulations In Order For Kourtney Kardashian?
Kourtney Kardashian has fans on high alert after a mysterious post on her Instagram Stories on Monday night. She included an excerpt from a Christian daily journal in the posted message. Within the Instagram stories was a photo of the June 5th devotional. Fans are tying it together with a few other clues to extrapolate that she is pregnant with Travis Barker's long-wanted baby.
View this post on Instagram
Encoded Devotional
Kourtney Kardashian's pictured devotional read, "Remember that you live in a fallen world: an abnormal world tainted by sin. Much frustration and failure result from your seeking perfection in this life. There is nothing perfect in this world except Me. That is why closeness to Me satisfies deep yearnings and fills you will Joy."
It continued, "I have planted a longing for perfection in every human heart. This is a good desire, which I alone can fulfill. But most people seek this fulfillment in other people and earthly pleasures or achievements. Thus they create idols, before which they bow down. I will have no other gods before Me! Make Me the deepest desire of your heart. Let me fulfill your yearning for perfection."
Beneath the devotional several bible verses referenced:
"We know that the whole creation has been groaning as in the pains of childbirth right up to the present time. – Romans 8:22."
"You shall have no other gods before me." – Exodus 20:3″
"Delight yourself in the LORD and he will give you the desires of your heart. – Psalm 37:4"
Several points piqued Kourtney Kardashian fans' interest in this passage.
View this post on Instagram
Pulling The Clues Together
Fans picked up on several breadcrumbs dropped along the way. Initially, fans started noticing a style change for Kourtney Kardashian. She has shifted to more loose-fitting clothing. Specifically, fans noted Kourtney Kardashian wearing oversized white overalls to her husband, Travis Barker's Blink182 concert in New York. Most recent photos are showing her in baggy pants, t-shirts, and primarily clothes not showing her midsection.
Other connecting clues were in the devotional mentioning "childbirth" and the "desires of your heart." Understandably, the couple has been longing to add to their family. Fans are theorizing that the combination of looser clothing and the hints from the devotional are clear signs that Kourtney Kardashian and Travis Barker are expecting baby number four!
Theories At Work About Kourtney Kardashian
The Sun discussed several theories floating around. First, fans are speculating that Kourtney has been intentionally covering her stomach lately to hide her baby bump. Additionally, fans are wanting this blessing for Kourtney Kardashian and Travis Barker to be true. They are watching closely and attuned to changes in her looks. One fan commented, "I kinda felt like she looked pregnant too! Good for her and Travis if they are."
Notedly, many pictures she posted lately are from years past. As an illustration of the pregnancy theory, the throw-backs are causing stronger beliefs in her fans. Considering it has been such a hard journey for the couple, fans want to be able to celebrate with them. Unmistakably, they have a beautiful combined family either way. Fingers crossed they are on the cusp of announcing their bundle of joy to the world.
Do you think fans are correct that Kourtney Kardashian and Travis Barker are giving clues to her being pregnant? Give us some feedback in the comments below. Don't miss The Kardashians on Thursdays on Hulu.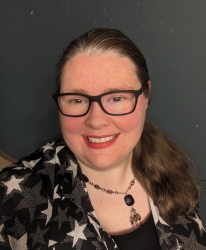 Latest posts by Bonnie Kaiser-Gambill
(see all)