Savannah Chrisley Discusses Mental Health And Past Suicide Attempts
Savannah Chrisley revisited her past suicide attempts during the recent Unlocked podcast with Patrick Custer. While Julie Chrisley and Todd Chrisley have been behind bars, they have also been working on a new reality tv show. Meanwhile, Savannah Chrisley has been opening up about her time on Chrisley Knows Best and how the reality was less reality and more comedy. She gave a raw interview with Patrick Custer about the life she truly experienced.
Savannah Chrisley Screaming For Attention
During Savannah Chrisley's interview with mental health advocate Patrick Custer, Savannah identified how she sought attention. In many ways, she says that being in the spotlight, she began to push herself into perfectionism. She wanted to be better than her brothers; better in school, better in activities, and just better all around. This led to a lot of pitfalls along the way. She said that at first, it would get her attention from her parents, but then it eventually just became the expectation.
View this post on Instagram
Savannah Chrisley discussed having to be "on" most of the time. Always needing to be funny for the show. Patrick asked her about how her dad was off-camera. She has many endearing reflections of him being close to her and credits that he is probably the reason she is still here. On the downside, she also admitted their close relationship was truly codependency on each other.
Savannah Chrisley's Unhealthy Shift Of Searching For Help
Unsure about the timeline, Savannah Chrisley discussed how when she was about 15 or 16 years old she had attempted suicide. Savannah believes it was about the same time the family began filming their first USA Network reality tv series. She spoke about how in many ways she had blocked out many things during that time due to trauma. Savannah Chrisley recalls that she told the doctors she was "fine" to avoid being kept longer. And while she wasn't okay, she resumed filming almost immediately. The fast track back to being "in character" took its toll. According to People, Savannah recounts, "I just kind of remember masking over. Like, I was fine," she added. "You know, that was just like a hiccup. I'm fine, I'm not crazy."
View this post on Instagram
Savannah Chrisley gives a lot of credit to her parents for showing up and being present with her through these struggles. She said her dad, Todd Chrisley, spent countless hours by her side. He shared many of his traumatic trials to usher her through. She said he would say things like, "Hey, I'm not this perfect person you've always thought I am. I've gone through stuff in my life, too. I've had trauma. I want you to feel comfortable."
How She Keeps On, Keeping On
Savannah Chrisley gave some insight into how she has continued through her struggles. She said after one attempt, "I suffered from really bad depression, and I remember that next morning waking up and there being a devotional that my dad had gotten in his email from Joel Osteen, and that's why I speak so highly of Joel, because he kinda saved me," she recalled, per Entertainment Tonight. "And the devotional was Romans 8:28, and it stated that through whatever hardships and adversities you go through, God's gonna turn around and use it to your advantage." Instantly, she felt like she woke up and switched from anger with God to acceptance.
As a reminder for anyone facing suicidal thoughts, use the resource 988 Suicide and Crisis Lifeline by dialing 988, text "STRENGTH" to the Crisis Text Line at 741741 or go to 988lifeline.org.
What do you think? Have you been through something similar to Savannah Chrisley? Drop a note in the comments. What helped you keep going?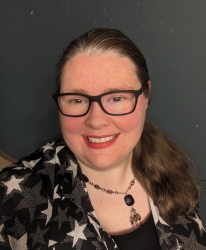 Latest posts by Bonnie Kaiser-Gambill
(see all)