'RHONJ' Former Producer Says They Should Say Goodbye To Gorgas
Recently, there has been talk about Melissa and Joe Gorga possibly leaving the Real Housewives of New Jersey. Jacqueline Laurita wants Melissa Gorga off the RHONJ show. Carlos King, former Real Housewives of New Jersey weighs in that he thinks it is time for the Gorgas to say goodbye to the show.
Spilling The Tea About RHONJ
Carlos King joined Teddi Mellencamp and Tamra Judge for their Two T's in A Pod podcast. During the discussion, Carlos King talked about his thoughts on the RHONJ future season. Carlos King says that he believes the RHONJ cannot go on without Teresa Giudice. Carlos King thinks RHONJ needs Teresa Guidice because she is polarizing to watch. He said that Melissa Gorga went wrong when she decided to constantly go against Teresa. According to King, Melissa hasn't given even 1% of her story. Carlos King says the show needs to be real but fun. While discussing, he said that he admittedly hasn't watched the whole season. He says that the storyline of Melissa vs. Teresa has been a turnoff for him during this season of RHONJ.
View this post on Instagram
Melissa Gorga's Recent Stance On The Rumors Of Her Leaving RHONJ
Melissa Gorga opened up on Ramona Singer's podcast. She said, "I have no intentions on leaving. I never run away when the going gets tough, that's not my personality. Our family has been through ups and downs for so many years on this show. I have never left before and I have no intentions of leaving now."
Fans seem to be torn on who they want to leave between Melissa Gorga and Teresa Giudice. These two ladies have tons of drama together.
View this post on Instagram
Has Melissa Gorga Given All She Can To RHONJ?
Along with Carlos King's sharp statements about leaving, he talked about Melissa Gorga's interaction on RHONJ thus far.  He thinks that the main storyline she has portrayed is the major grudge between Melissa and Teresa. According to him, it has repeated over and over, like being on a "hampster wheel."
Carlos King continued by saying, "What has Melissa Gorga given to the show herself? Seeing as she is a woman who wouldn't even use the same household restroom as her husband, Joe Gorga after 10 years of marriage – it's up for debate. In other words, have her other family storylines, stripper-gate, and Envy been enough?" according to Yahoo Entertainment.
He quipped, "Teresa has given everything to the show including her blood type."
Former RHONJ Producer Carlos King Calls Out The Two Ts
Carlos King told the Ts he had a bit of bone to pick with them. He proceeded to call out Teddi Mellencamp and Tamra Judge because he thinks they have flip-flopped after a call from Melissa. Teddi and Tamra responded adamantly that wasn't the case. Carlos said they seemed to retract their earlier opinion when Jacqueline Laurita came on the podcast.
Give a shout-out in the comments on who you think will make the cut next season. Do you think that Melissa has more to add to the future RHONJ storyline or is Carlos King right? What other things have you noticed in the show that might be overlooked?
Watch the Real Housewives of New Jersey reunion for what might be the final showdown. It airs Tuesday nights on Bravo at 8 pm ET.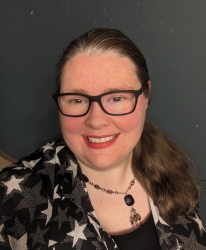 Latest posts by Bonnie Kaiser-Gambill
(see all)