Latest posts by Trisha Faulkner
(see all)
A bombshell dropped on 1000-Lb. Sisters fans exactly a week ago claiming that Michael and Amy Halterman had split up. As Tv Shows Ace reported, most fans were taking this bombshell with a grain of salt because it was being confirmed by an anonymous source via a media outlet that most fans wrote off as more of a tabloid of partial truths.
Per this bombshell, Amy Halterman finally had enough of Michael's refusal to step up and help with the boys. Likewise, Amy was reportedly frustrated as her husband was jealous of having to share her with his sons.
The report claims that a frustrated Amy Halterman took the boys and left Michael. She is reportedly living with her sister Tammy at this point in time. While fans agree Amy taking two kids and moving in with her newly married sister would make for an interesting story arc for TLC, fans don't think it makes sense for Amy to take the boys and leave the house. Shouldn't she just give Michael the boot?
While Michael and Amy aren't officially divorced yet. The OG report claims she just hasn't filed the paperwork yet.
Now, no one in the family has had anything to say about these rumors as of yet. But, Amy Halterman did surface on Instagram over the weekend. And, fans are convinced this was her way of confirming she had split from Michael without actually coming out and saying it.
Amy Halterman snugs husband and confirms split?
1000-Lb. Sisters fans assume that because of a contract with TLC Amy and Michael may not be allowed to speak about their split if it really happened. Fans assume that is the juicy kind of storyline TLC would want to sink their teeth into. Some fans, however, are also speculating the whole idea of Amy and Michael splitting up doesn't make sense. Could it just be a storyline crafted by TLC to give the show another season?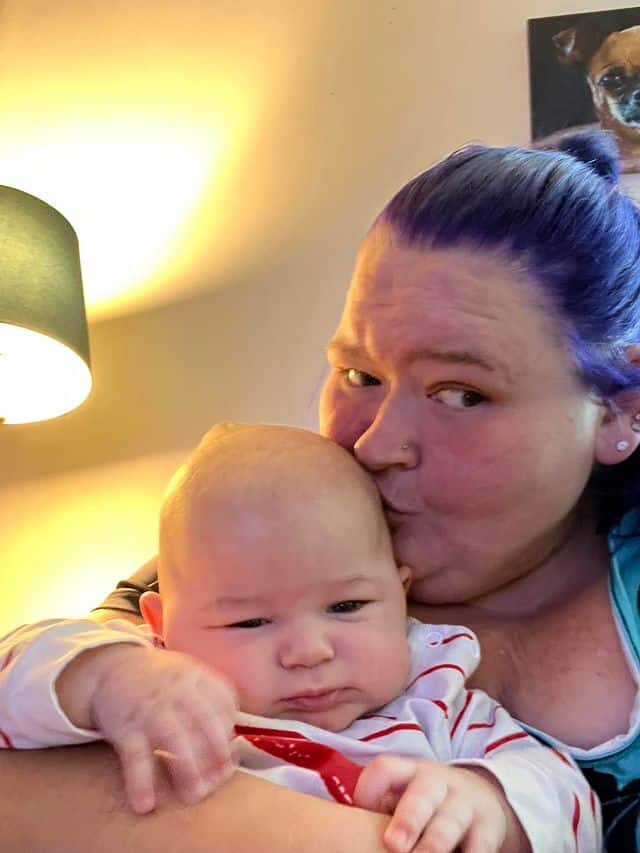 Either way, Amy took to Instagram over the weekend and seemingly confirmed her relationship with her husband was over. She posted a photo of Glenn and wished him "happy eight months" as he approached his first birthday. In the caption, she noted that "momma and Gage" loved him very much. She, however, did not mention Michael at all. The omission of Michael in the caption did not escape fans and they speculated this was her way of confirming the relationship was over.
Are fans reading too much into this? Or, are Amy and Michael over? Let us know in the comments down below. And, keep coming back for more 1000-Lb. Sisters news.