Latest posts by Trisha Faulkner
(see all)
Has Amy Halterman's weight loss stalled?
A recent photo of Amy Halterman and her sister Tammy Slaton has surfaced on Reddit. One 1000-Lb. Sisters fan claims Amy and Tammy visited their hometown. And, the photo was taken in the past 24 hours. Focusing on Amy Halterman in the recent photo fans admit they are a bit surprised. Has she given up on losing weight now that she's completed her family with Gage and Glenn? Some fans fear that might be the case.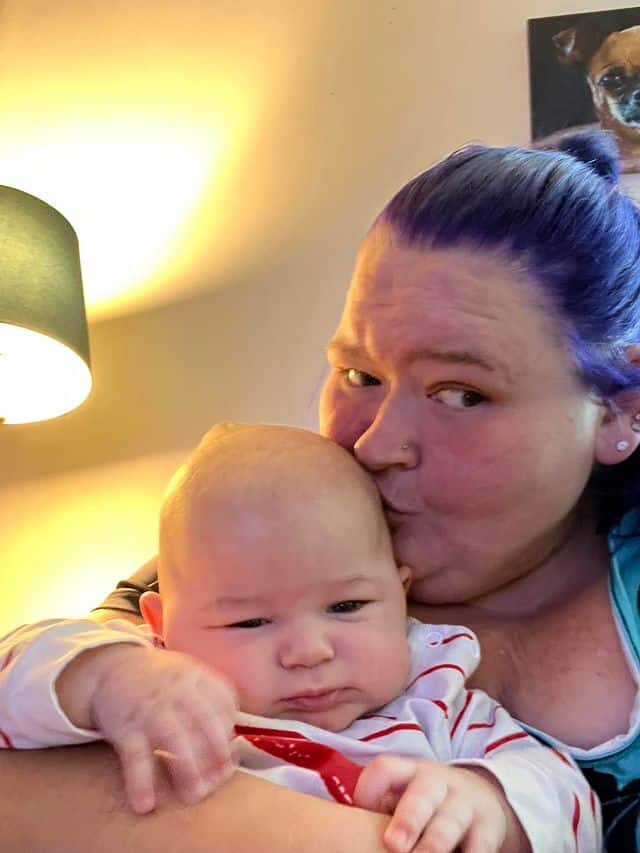 Fan shares fresh photo of Amy Halterman
According to the thread on Reddit, Amy and Tammy were visiting the fan's hometown. There were not any additional details beyond the OP confirming the photo was taken the same day it was posted.
Amy Halterman had a HUGE smile on her face as she sat with her legs crossed leaning against her sister Tammy. Amy's hair was still the electric blue color. She wore a zipped-up grey and black hoodie with one hand pushed in her pocket and her other arm resting on her sister.
She appeared to have a long black top with a pink, purple, and white floral pattern underneath her jacket. She pulled the outfit together with a pair of black bottoms. Check out the photo shared by a fan on Reddit down below:
In the Reddit thread, fans admit they were a bit sad to see the photo as it didn't look like Amy had lost any weight since having her son Glenn. Fans admit they didn't have much confidence Amy would get back on the right track as her family clearly didn't have a strong history of maintaining weight loss.
One frustrated fan penned: "Amy should have been dragged through the dirt for thinking she can take care of a child, let alone two, when she can't even take care of herself. The kids are likely gonna grow up motherless, and it is 100% her responsibility."
Another fan chimed in: "Amy's face looks bigger. I really hope she doesn't backtrack too much."
While fans were cheering for Tammy's progress in the photo, they were frustrated with her sister Amy. Did Amy just lose weight to have children? Either way, fans are deeply concerned as the time gap between the series and this photo reveals Amy is making no progress with her weight loss.