Latest posts by Nikole Behrens
(see all)
Dancing With The Stars pro Emma Slater couldn't be happier to be back on the road with her friends. At the end of each season, the pros and several celebrity cast members have the opportunity to go on tour and perform around the country. The 2023 tour is well underway and will run through March. Although the tour involves a lot of late nights, hard work, and endless travel, it seems like the cast is having a great time.
And of course, it wouldn't be the DWTS tour without some backstage antics. Fans that follow the cast on social media can frequently see the dancers goofing around with one another behind the scenes. The men in particular have been known to post ridiculous photos and videos of their antics. One video in particular features a few of the men dancing provocatively.
And it seems like Emma Slater seemed to poke some fun at the boys and post a thirst trap of her own.
Emma Slater and other cast members show their sultry side backstage
DWTS fans that get to see the tour are in for a treat. All over the country, fans are flocking to auditoriums and event centers in hopes of seeing their favorite dancers perform.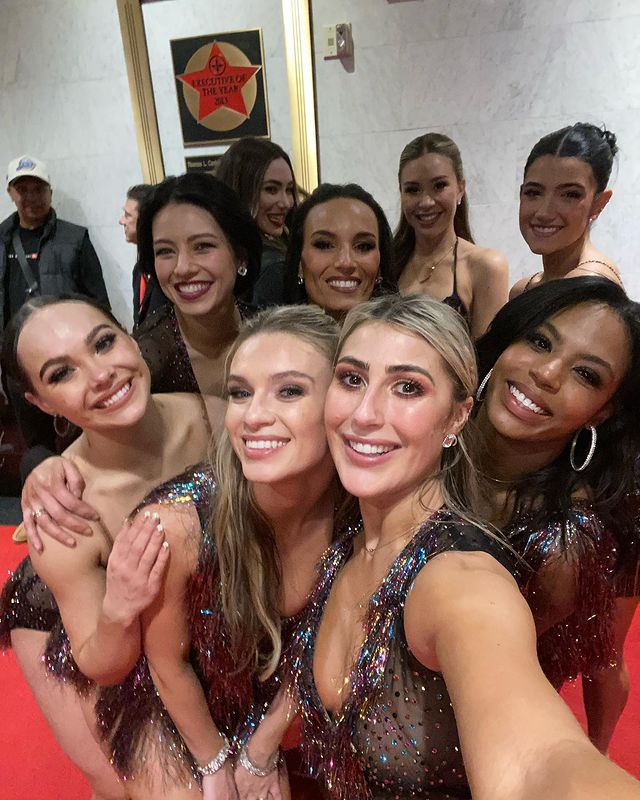 But in the meantime, fans can always follow the cast on social media and see what they're up to. Each cast member is pretty active on social media and enjoys sharing funny content with fans.
"The after show" Alan Bersten captioned a video that he made with Gleb Savchenko and Brandon Armstrong. In the video, Alan and Gleb are dancing in shorts when Brandon scoots by wearing nothing but a towel. Alan playfully grabs the towel and tries to pull it away.
See the video for yourself here:
DWTS fans thought the video was hilarious and showed the comradery between the male dancers. However, Emma Slater thought she could one-up the men with a sultry post of her own.
"Since the boys do towels," the 34-year-old dancer captioned a selfie she uploaded to her Instagram story this week.
The photo was just in Emma's stories, so comments weren't publically available. But Emma probably received some pretty spicy DMs after sharing that with her social media followers!
The dancer and her ex are keeping it cordial behind the scenes
Emma Slater's ex-husband Sasha Farber is also on tour. However, it doesn't seem like they are letting any bad feelings get in the way of their work. Both Sasha and Emma have been spotted in several online photos their castmates post and it looks like they are having the time of their lives.
During the course of Season 31, Sasha was also incredibly supportive of Emma and her celebrity partner Trevor Donovan.
"There are definitely a lot of dark horses, and Trevor [Donovan] came in this competition being afraid to dance," the 38-year-old dancer told Us Weekly. "That's, like, the main thing you wouldn't do if you're afraid to dance, is do a dance show. And he's firing on all cylinders. He's doing phenomenal."
Emma and Trevor went on to finish in 6th place and won over many fans in the process. Several viewers hoped that the pair pursued a romantic relationship behind the scenes, but it seems like they just became very close friends instead.
It's still unknown why Emma Slater and Sasha Farber ended their marriage in the first place, but fans are happy to know they can put aside their personal differences and put on a great show.
Stay tuned for more news and updates on the DWTS cast and the ongoing tour.