In the latest Sister Wives episodes, Ysabel and Gwendlyn Brown had some major moments. Ysabel celebrated her high school graduation and turned eighteen. As for Gwen, she opened up about her sexuality for the first time on the show. They are growing and evolving while their mother, Christine is starting the process of leaving the plural marriage. However, just like their mom, they do love to celebrate and recently came together for a truly momentous occasion. So, what exactly was it? Read on for more details.
Gwendlyn Brown Hits A Milestone Birthday
In a fun Instagram post, Gwendlyn shared that she was celebrating her 21st birthday. In a series of super happy photos, she is surrounded by family and friends. Along with friends and her girlfriend, Gwen's younger sister, Ysabel was also in attendance for the intimate festivities.
View this post on Instagram
Gwen also showcased a series of polaroids, seemingly taken throughout the evening that tells the story of her turning 21. It culminated with everyone singing to her. Her sister, Mykleti Padron, left her a sweet message: "Congrats!!! And happy sister/friend/lover bonding time." Another follower asked if Gwen and Janelle's son, Gabriel were born close together. Janelle was just celebrating him turning 21, as well.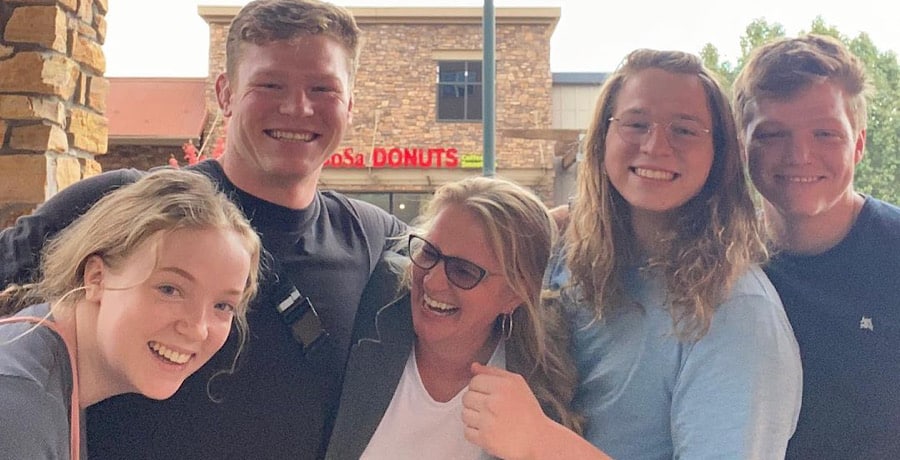 To the question, Gwen responded: "yes! 4 days! we say we're twins all the time." It is no secret that Janelle and Christine's families are super close. Gabe even went head to head with their father, Kody over his strict pandemic protocols. He reminded Kody that it's hard for Christine to be far from the kids. After all, she was the one who primarily raised them. They all still gather for adventures and such.
Speaking Their Truth
The Brown children have never had a problem being honest about how they feel. Now, Gwendlyn Brown is opening up about who she is on camera for the first time. Though her followers are well-aware that she is bisexual, she finally shared this news in the latest SW episode. Christine revealed the moment that she knew her daughter was not straight. She was quite young but it all clicked and Christine had been more than supportive. It goes both ways since her older children have been there for her since her split from Kody.
They just want her to find happiness away from the plural marriage and she has more than proven this was what she needed. Now living in Utah, Christine is constantly glowing. She and her kids go on adventures with Janelle and her family while she still films for Sister Wives. It appears she has no regrets and made the best decision ever.
What do you think of Gwendlyn Brown and her mother continuing to celebrate life? Let us know in the comments and watch Sister Wives Sundays on TLC.
Latest posts by Amanda Nowitz
(see all)