Darcey Silva started out her 90 Day Fiance journey with a somewhat natural look. However, as time progressed, she became unrecognizable. Along with her identical twin, Stacey, the two embarked on a search to become their best selves. Unfortunately, it left them both frightening with fans questioning why they went to such extremes.
To add to their head-to-toe makeovers, Darcey has continued to enlist the use of filters on social media. So, no one really knows what she looks like underneath all the glam and the facade. Thanks to her frequent Cameo appearances, fans are offering a glimpse into the real Darcey. Read on to see what she looks like when the mask comes off.
Darcey Silva Loses Her Protective Shield
For those who actively follow the 90 Day Fiance alum on Instagram, it is no secret that she posts a lot. Usually, it is quick videos of herself posing. Other times, she showcases quick clips of modeling shoots from her and Stacey's clothing line campaign shoots. Yet, there is one constant: Darcey never goes without a good filter. Keep in mind that she and Stacey went to Turkey for extensive twin makeovers. This included new veneers, nose jobs, lips lifts, breast augmentation, Brazilian butt lifts, and liposuction. The goal was to get snatched.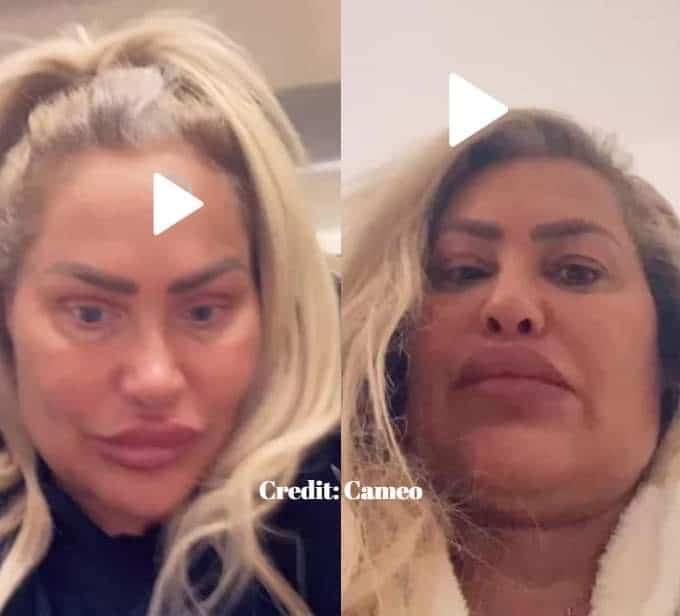 It was not enough for them as they came home and redid their noses as well as had their eyes done. Still, they both chose to use filters on every photo. However, that would not fly when it came to Cameos and that is when fans saw the real Darcey. She appeared to not even try to dress herself up or make herself look presentable. As for how much she charges for these quick, personalized videos, they are around $75 for personal and $300 for business.
Scared Fans Have A Lot To Say
Some of Darcey Silva's Instagram followers are nothing but supportive. They think that she is beautiful and are extremely complimentary. However, a Reddit thread was started over a few candid photos of the twins letting it all hang out. The duo was completely unedited and unfiltered and followers could not believe what they were seeing.
"They should have considered their height before they got their boobs done. They are all head/boobs/feet."
"They aren't healthy in any way…mind, body, or spirit."
"Are we sure they had a "Barbie makeover"?!?!
"They look as if alcohol is the majority of their caloric intake."
Again, there are some faithful supporters of Darcey's who cannot help but say how great she looks. Yet, they do tell her to stop with the filters. "Why the filter after all the plastic surgeries?" one asked. Another added: "Gurrrrrlll, you're trying to sell beauty products with an insane filter. At this point you're just laughable." It seems fans just want her to be her authentic self but does she even know who that is anymore?
What do you think of Darcey Silva's unfiltered self? Let us know in the comments.
Latest posts by Amanda Nowitz
(see all)