It has been a ghost town on Julie Chrisley and Todd Chrisley's Instagram profiles since the guilty verdict was handed down for tax evasion and bank fraud. In Julie's defense, she wasn't THAT active on her profile prior to the verdict being handed down. Her husband Todd, however, was fairly active on Instagram. So, collectively, it's been surprising to their massive following that they've had nothing to post.
Julie Chrisley's 997,000 Instagram followers were a bit surprised when she took to her Instagram Stories in a very unlikely and unexpected way. Chrisley Knows Best fans knew it was only a matter of time before Todd and Julie broke their Instagram silence. Fans, however, were caught a bit off guard by her super random Instagram Stories post. In hindsight, it was a very Julie-esque post.
What did Julie Chrisley break her Internet and Instagram silence to post about?
Julie Chrisley breaks Internet and Instagram silence
Todd Chrisley's wife was the first of the couple to surface on Instagram with a pretty shocking Instagram Stories video. It was a very brief clip. Sadly, neither Julie nor her husband Todd could be heard talking or even seen in the video.
The very brief clip revealed Julie Chrisley was hard at work doing something she loved while being stuck on house arrest. What was it she was doing? Cooking.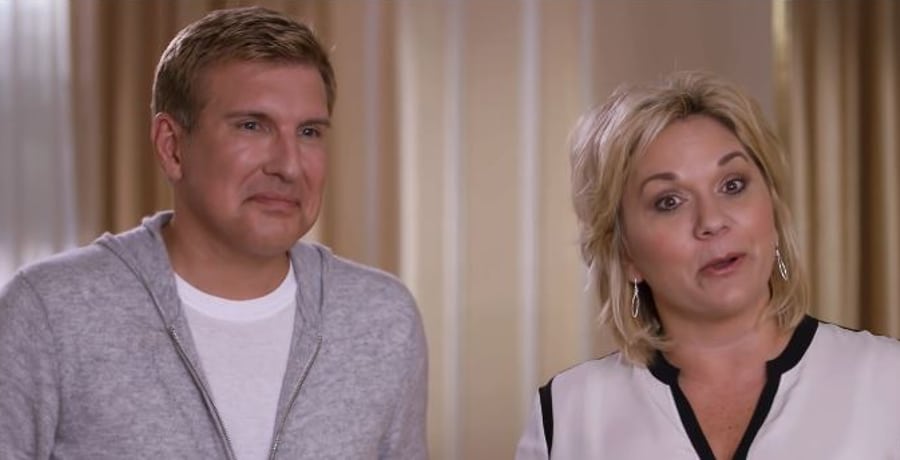 The video was a close-up shot of a bowl of homemade salsa. The salsa was vibrant red and chunky with a lot of fresh ingredients. Someone, presumably Julie Chrisley, stirred the salsa while the video was being filmed.
A caption on top of the video revealed she was currently making homemade salsa.
When did she last post on her profile?
Instagram Stories aren't documented, but Julie Chrisley last posted on her profile on May 16. This post was a collection of pictures of her youngest son, Grayson. The post was a tribute to him on his birthday.
Catching wind of her homemade salsa on her Instagram Stories, there were some fresh comments on her Grayson post. One fan urged her to share her salsa recipe. Others admitted they were just glad to know she was alright.
Those looking for updates on Todd and Julie Chrisley can tune in to their weekly podcast episodes on Chrisley Confessions. Todd has promised to continue to drop episodes weekly for as long as they are able to do so. Furthermore, the couple promised their children would take over the podcast if anything should happen that prevents them from continuing (such as going to jail).
Why do you think Julie Chrisley posted something so random on her Instagram Stories? Let us know in the comments down below.
Latest posts by Trisha Faulkner
(see all)