'Sister Wives' Recap Season 16 Episode 8- Jan. 9
Last week on Sister Wives, it was time to lay down the law about the upcoming 2020 Thanksgiving holidays. Kody came by Janelle's to help with yard work as he is reluctant to come inside the home. He still feels her family is not being socially responsible. At the same time, their sons Garrison and Gabriel believe Kody is taking things way too far. They do not feel his even attempting to connect with them and view him as the antagonist. Seeing that Gabe has a girlfriend who will be in town for Christmas, Janelle proposed she move in with them. It was more of a safety measure yet Kody saw red.
He thinks the family has thrown their religious beliefs out the window at this point. As for Thanksgiving, a family meeting is being held. The older kids in Utah cannot adhere to Kody's pandemic rules. Therefore, Christine and her girls are headed there for the holidays. Truth be told, Janelle's boys would rather celebrate with her. Robyn will hold her own get-together and it seems Meri will be included as she has been the second safest one. The culmination of the episode was when Janelle finally told Kody to "f- off."
This week, some emotional reunions are about to happen with the 2020 holidays upon them. This could go many different ways but it will be unlike any other year before.
Sister Wives Reconnecting Over Marriage and Covid
Last week, Janelle and Robyn had a heart-to-heart about Kody. They can only take so much of him, at least on Janelle's behalf. Robyn has had him consistently for almost nine months and this is not what she signed up for. Now, she and Meri are taking the time to chat about it all. At their last meeting, Meri made a sarcastic joke about the pandemic rules which Robyn took out of context. Meri clarified very quickly she is one of Robyn's biggest advocates and admittedly, Robyn was sensitive.
One child had called Robyn, asking to relax the rules so she felt she was an easy target. In Meri's opinion, she has been following the rules so why can't she see Robyn's children? Kody is in agreeance but they need to explain this to the family to avoid retaliation and backlash. Meri points out that Christine and Janelle have been getting together with disregard to the rules so it should not matter. Everyone is playing by what works for them so enough is enough. If you follow the rules, that's what matters.
Christine's confessional says yes she hung out with Janelle because their kids needed it yet they followed the CDC guidelines prior. Furthermore, she assumed Robyn and Meri were getting together, as well. She had no idea what was transpiring. They all admit in polygamy there is a devil and an angel on their shoulders. For Robyn, as much as she loves Kody, she is exhausted by having him always around. It has finally taken its toll.
Too Much Kody and Where Does Meri Stand?
Robyn is worried for the wives and children who have gone without Kody. She is also carrying a heavy burden with feeling a lot of blame getting to always have him. Her mom calls her the "Brown family scapegoat." This takes Meri aback because she did not expect that at all. Meri's only response is at least she is a part of the family because she does not know where she belongs.
Robyn shares Kody does say and do things that give her hope for him and Meri. He calls occasionally or acts as he cares. Yet, he has been very honest with Meri that this is purely a friendship. To Robyn, that is just a new door opening. It may not be what it once was but it could be something new and even better. Meri says it is really easy to love Kody but hard to not receive love from him.
Speaking about the holidays was hard for Meri because she remembers when they all gathered together. This is not what she signed up for. Everyone is doing their own thing and they have grown accustomed to that. Meri feels she and Robyn are the only two truly fighting for the family.
Sister Wives Come Together
Janelle and Christine have decided to get together after the family meeting about the holidays. It was hard for her because she felt as if she was being treated like a child. The best thing about sister wives is they can vent to one another about their husband. Christine admits Janelle has not traveled as much as she has and Janelle connects more with him. The two wives have also gone to Utah to see their kids then headed to North Carolina to see Maddie. Kody did not like it but they did it and when he does come to see Christine, he is only slightly present.
Thanksgiving is hard because Janelle does not want to leave her sons at home while she celebrates at Robyn's. She admits the beginning of COVID was worse than postpartum where her mental health truly struggled. Janelle's kids truly love Christine and are so attached to her since she was the primary caretaker as they were growing up. It goes both ways as Christine's kids think Janelle is this fiercely independent woman. It is all about the children and that is the best.
Meri's Big Reunion and Thanksgiving Plans
After going to Lizzie's Heritage Inn and quarantining for ten days, Meri can finally go see Robyn's kids. They have no idea she is coming so they will be blown away. When they see her at the door, they are shocked and are even more excited to learn they can touch. They ate, cuddled and this will now be a regular thing. Sadly, the happiness is about to end for Robyn's kids when she breaks the Thanksgiving news. She explains Kody gave the wives the rules they needed to follow in order to gather.
Of course, Robyn says Janelle's family was unable to do it. This was not true. Her sons were struggling with the way their father had been treating them and preferred to be elsewhere. So, that part of the family is headed to Utah to go to Janelle's sister's home. As for Christine, it was really her children in Utah who did not feel they could follow the rules. Therefore, they ended up at Mitch and Aspyn's. Robyn understands she will want to be with her kids on the holidays when her kids are grown. The bright side is Meri will be with them for Thanksgiving.
Yes, it is hard for the kids because they all feel sad and rejected but they must adapt to a new normal. Meri points out how she always did the turkey, Christine did the roles, Janelle brought pies, and Robyn had relish. This year, Robyn asked if she could try to make the turkey. It made Meri a little sad but she said okay. Having two sister wives in one kitchen is always a weird thing.
A Sister Wives Scaled-Down Thanksgiving
Meri could not stop herself from bringing a turkey. This shook Robyn but she took it in stride. It turned out to be a Rice Krispie Treats turkey since Kody loves them. This was perfect and just another way to sneak into his heart. Kody points out they have no issues with one another it is just not romantic. It is not a marriage. He then reflects on Thanksgiving's past when they had upwards of 70 people. Now, it is just eight and they must make do.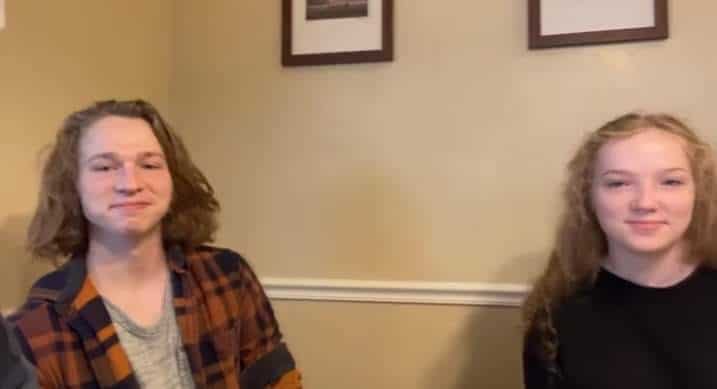 Kody never wants to see his wives in the kitchen together. It does not make him happy at all. Over in Utah, Janelle and Christine wanted to be together but it was too much of a risk. It is so exciting for Christine to see a pregnant Mykelti and she realizes she can get used to this chill lifestyle. Even though Ysabel is in pain, she is smiling. Christine did a video chat with Robyn on the holiday yet Janelle did not even think of it.
It is hard for Meri not to have the other wives there as she could have been with her daughter and mom. Fortunately, it has been an easy holiday all-around but Kody notes if you want an easy life, be a monogamist. Next time, Janelle's mother passes away while Kody and Gabriel finally go head-to-head. Janelle questions why she chose plural marriage and everyone gets together for 2020 Christmas.
Don't miss Sister Wives every Sunday on TLC.
Latest posts by Amanda Lauren
(see all)