'Gold Rush: White Water' Exclusive: Carlos Minor's Near Death Baby Claw Boulder Removal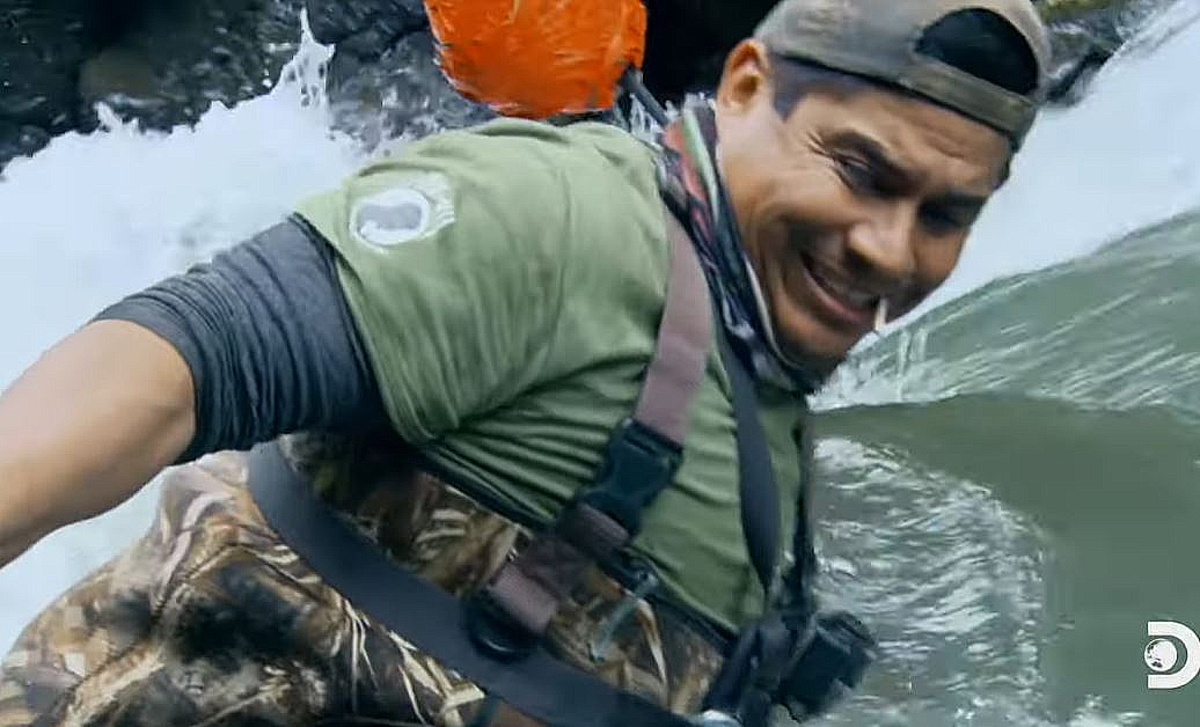 On Friday night's Gold Rush: White Water, Dustin Hurt's team that includes Carlos Minor are tasked with engineering their way out of a raging river predicament.
Can they get a boulder out of their way so the dredge can be put in place to suction mine the gold?
On TV Shows Ace exclusive preview, Dustin gets Carlos kitted up and ready to suspend over the raging waters with a baby claw to hook around the rock, as we learn that gold is underneath this boulder.
Gold Rush: White Water episode
In order for Carlos Minor to get the dredge in the water, the crew—lead by Dustin Hurt, son of Dakota Fred—must suspend it from the skyline and carry it upstream.  Seems easy, right? Ha!
As with all great laid plans, there is a fly in the ointment. Unfortunately there is a boulder the size of a child right in the path. So  first they must remove the boulder using the skyline and what is described as "a baby claw" to scoop up and lock onto the rock.  Then they must maneuver the dredge into position.
Wes Richardson says: "We going to try to move this boulder out of the way and we know how much gold is there.  Nothing is going to stop us."
Carlos says: "I'm gonna have to go in there… let me go in there and get it." All while Carlos is being put in harms way, Dustin is heard saying "don;t die" over and over as Minot, a smile on his face, seems to be pretty confident he can accomplish this task for the day.
About the series
Gold Rush: White Water is extreme gold mining at the most challenging of locations. Gold miners Dakota Fred and his son Dustin Hurt are seasoned miners and they plan on making a fortune no matter the risk.
But to find the big gold nuggets and worthwhile payout, they'll put their lives at stake and their crew to the test by diving deep beneath the raging waters of one of Alaska's wildest creeks to the calmer and frigid "plunge pools."
This is where the suction dredge can suck up the residual gold that has run off the mountain for eons, settling into the beds and under the rocks of this fast moving water.
Also on this episode, the Dakota Boys race against time and put their new crewmembers to the test to rebuild their mine sites and haul heavy equipment to the Trifecta and Rockfall Ravine.
Their first dive is described by producers as "golden" and promises a successful season.
Tune in to see what happens to Carlos on Friday night:
Gold Rush: White Water airs Fridays at 9PM ET/PT on Discovery Channel.
Latest posts by April Neale
(see all)