Lisa Marie Presley's Son's Death Ruled A Suicide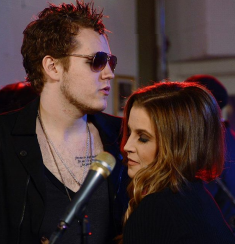 The Presley family is no stranger to heart break, and tragedy hit them again this week. On Sunday, July 12, 2020, Benjamin Keough, 27, died from a self-inflicted intraoral shotgun wound at his family's home in Calabasas, California. The L.A. County Medical Examiner-Coroner's Office performed an autopsy on Keough. The Coroner's Office released a statement today that they had ruled Keough's manner of death to be a suicide.
Legacy of "The King"
Benjamin Keough was the son of Lisa Marie Presley and Danny Keough. He was also the grandson of the "King of Rock and Roll", legend Elvis Presley and his wife Priscilla. Keough, however, never met his famous grandfather; who died at the young age of forty-two from a heart attack. Elvis had issues with substance abuse. These issues likely contributed to the heart attack that took the singer's life prematurely.
Though the two never knew each other they shared a love of music. Keough was reported to have signed a five-million-dollar record deal in 2009, and like his grandfather he did not enjoy the limelight. Keough tried to kept his life as low profile as possible. But the physical resemblance between Keough and his grandfather was remarkable. Lisa Marie was once quoted saying, "Ben does look so much like Elvis. He was at the Opry and was the quiet storm behind the stage. Everybody turned around and looked when he was over there. Everybody was grabbing him for a photo because it is just uncanny."
https://www.instagram.com/p/BkRLh6Chpyc/?utm_source=ig_web_copy_link
Family Struggles
Losing her father at only nine affected Lisa Marie Presley in a profound way; as the loss of any parent at that age would. But she was famous from the time she was born and though she was able to make a name for herself in the music industry; she was more infamous because of her tumultuous personal life. Lisa Marie married four times. Her first husband was Danny Keough, who is Benjamin and his sister Riley Keough's father. Lisa Marie married Michael Jackson in 1994 and they were together until 1996. Then she was married to Nicholas Cage for three months in 2002. Lisa Marie's latest husband was Michael Lockwood, who she shares twin daughters Harper and Finley, but they split in 2016.
A Mother's Love
But throughout her marital struggles Lisa Marie always stayed very close to Benjamin. When asked how Presley is handling the loss her representative stated, "She is completely heartbroken, inconsolable and beyond devastated but trying to stay strong for her 11-year-old twins and her oldest daughter Riley." He continued stating, "She adored that boy. He was the love of her life."
Lisa Marie's song "Storm and Grace" was written for Keough. The lyrics say, "You have the most beautiful heart that I've ever known," the lyrics continue with, "It kills me you can't ever show it."
Lisa Marie was a member of the Church of Scientology until she split from the church in 2016. So she raised her children in the church. Benjamin Keough grew up in the Church of Scientology and a friend of his said he had struggled with addiction and Keough had said, "how [messed] up kids get in Scientology."
Mama Lion with cubs ❤️💙🖤🧡🦁😘 pic.twitter.com/UiYoceWHWN

— Lisa Marie Presley (@LisaPresley) June 20, 2019
The loss of a family member is devastating and to have a member take their own life is heartbreaking and confusing. No one can ever truly know why a person would choose to take their own life, so if you or someone you know is having thoughts of suicide please reach out. Contact the National Suicide Prevention Lifeline at 1-800-273-TALK (8255).
Latest posts by Allie Johnson
(see all)