Discovery Family Debuts Pharrell Williams' Animated Series 'True And The Rainbow Kingdom,' Preview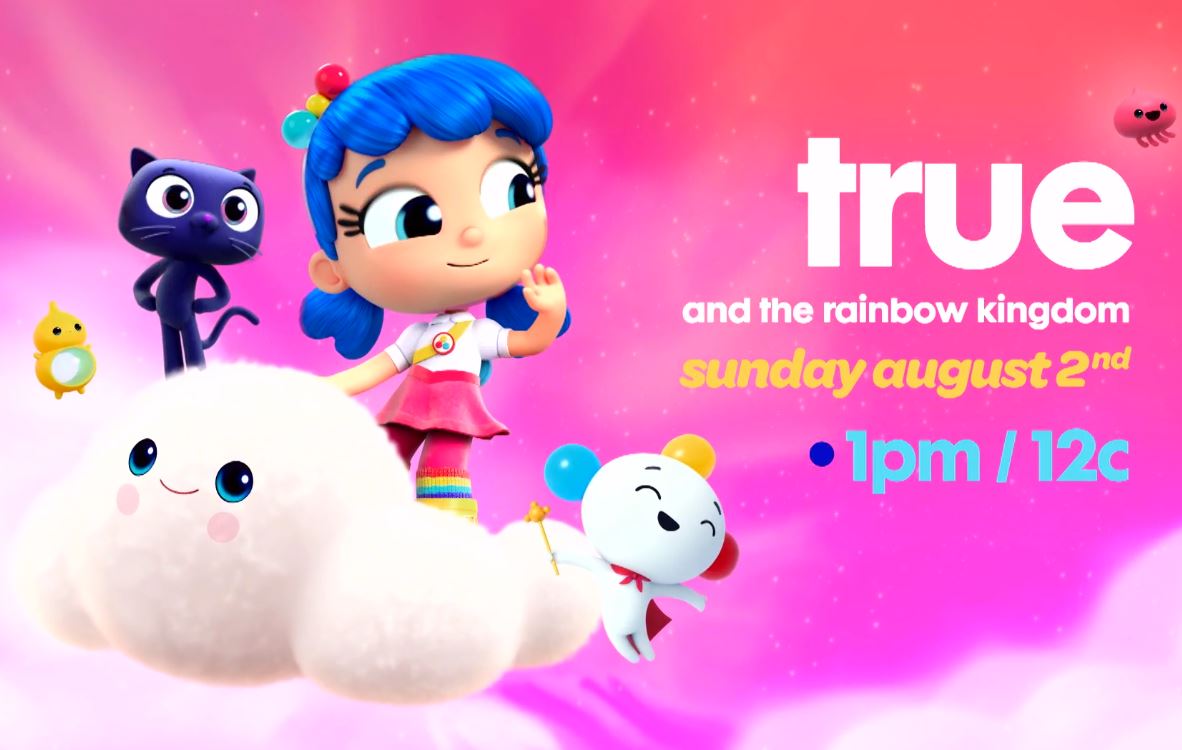 Families have a new animated series targeted for preschooler to add to the video playlist for their children. It was announced today that  Discovery Family's new series True And The Rainbow Kingdom is coming to the network this August.
The preschool animated series features problem solving situations and reinforces the values of friendships all stitched with age-appropriate comedy.
Executive produced by musician Pharrell Williams, the series will also stream live and on demand on Discovery Family GO, the network's TV Everywhere app.
About True And The Rainbow Kingdom
Discovery Family's new heroine is True, and whenever there's a problem in the beauty-filled magical Rainbow Kingdom, she is the one person everyone can count on to save the day.
The animated new series follows an intelligent and fearless heroine, 8-year-old True.
True and her funny best friend Bartleby the cat come to the rescue of Rainbow City's "whimsical" citizens.
Discovery Family says:
True is the only one that can unleash the power of the Magical Wishes from the Wishing Tree in order to set things right and keep all the residents in the Kingdom safe.
The episodes are each 22-minutes long, as the animated series is precisely tailored to a preschool audience.
Using comedy and learning lessons, the series is perfect for both boys and girls alike, while empowering them as they help the character of True solve problems and overcome challenges.
Episodes for True And The Rainbow Kingdom
Discovery Family says:
In the series premiere episodes titled Big Mossy Mess and Wishing Heart Hollow, Bartleby brings home some special Zazoony Moss and it suddenly starts to grow like crazy! It's now up to True to stop its spread before the moss covers the entire Rainbow Kingdom.
Later, with the help of some new friends, True must rescue the Rainbow King who gets trapped in the Wishing Heart Hollow cave.
Creatives behind True And The Rainbow Kingdom
The series is brought to the network by Guru Studio (PAW Patrol), based on the artwork of FriendsWithYou and is executive produced by award-winning musician and artist, Pharrell Williams.
Expanding his entertainment reach, Williams is also producing a Gospel docuseries based on a family member's life for Netflix.
Happy Sunday! Excited to announce Voices of Fire, a new docuseries that follows @Pharrell's hometown community as it builds one of the world's most inspiring and diverse gospel choirs. Only on Netflix later this year! pic.twitter.com/YvPGuTTpd4

— Strong Black Lead (@strongblacklead) July 5, 2020
Williams' Netflix docuseries is titled Voices of Fire, and is based in Virginia. The series follows the journey of a bishop and his central team as they search for talent to build their gospel choir..
https://www.youtube.com/watch?v=pioqo68NPv0
True And The Rainbow Kingdom premieres on Sunday, August 2, at  1/12c on Discovery Family
Latest posts by April Neale
(see all)